March 8, 2017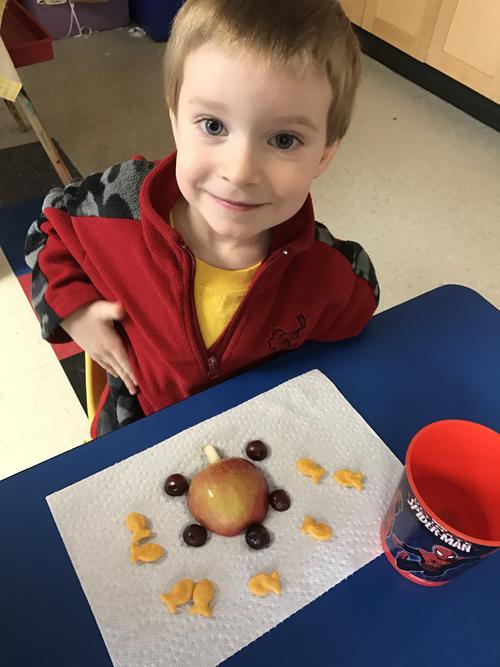 Matthew was excited to be the "duty kid" today. One of the perks of having your parent be on duty is that you get to hold open doors and turn out the light to announce snack time. Matthew takes getting to set up for snack very seriously.
He also likes to show me ALL the different stations, although he insists that I spend most of my time reading him stories. I thought the doll washing station was weird. So did Matthew, but he did conscientiously rescue all the dolls from the tub and dry them off "so they won't get cold and drownded"
The kids in Matthew's class obviously adore storytime - I read for about 40 minutes before declaring myself done and I had at least five kids listening for the entire time. I was a little taken aback to discover a high number of superhero books all about "bad guys" etc. Seems this may be the source of some undesirable play themes we have been battling at home.
I had noticed the last few times that quite a number of kids did not like cheese, so I opted for a cheese-less snack. At least of the dairy kind.
1
On May 10, 2017 at 12:09 pm
Grandma H
said:
Don't you think A would like the doll washing station? Sounds to me more like a place to puddle. Matthew is very sensible.

Ah, yes the GIGO principle. Can parents have any input to better reading material?
2
On May 10, 2017 at 09:50 pm
Mary @ Parenthood
said:
Amelia would probably end up soaked. I was surprised Matthew didn't want to puddle actually. I've complained about the reading material and asked about replacing some of it. We'll see what happens.


You might also like
- January Duty day
(0.418398)
- Dovercourt
(0.358876)
- 12 Days of Christmas: New Year's Eve
(0.357326)
- Thanksgiving
(0.352132)
- Recovery
(0.349563)
All