December 5, 2009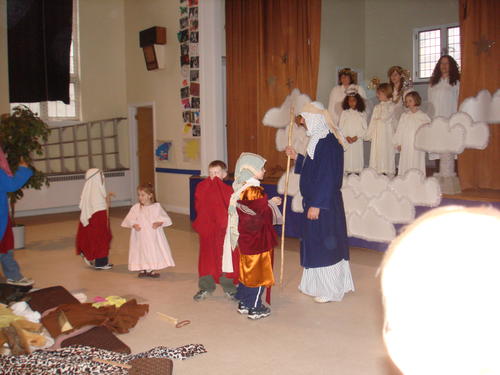 A local church (Fourth Avenue Baptist) presented a walkthrough Christmas pageant today, and Elizabeth, Grandma H, Brendan and I were all excited to go check it out.
Greeted at the door by a Roman soldier, we were exhorted to sign in for the census, which we thought was a very clever way to take registration! After a few minutes of Christmas carols, we started off on our tour which wound its way around the basement of their church.
Mary and Joseph were visited in turn by angels, and then we inspected the famous inn, tended by a rather tipsy inn-keeper. Off to Herod's court where a truly gifted advisor to the King informed us of the upcoming birth of Jesus. On to the hillside with some wiggly shepherds (three of whom we later learned belonged to the Roman soldier at the front door) who were serenaded by one of the cutest angel choirs I have ever seen. Elizabeth was enchanted.
We then headed outside to the stable which was surrounded by live animals. A couple of llamas, a donkey, a small horse/pony cross, sheep and goats wandered around Mary and Joseph. I don't know whether the goats will make a repeat performance, given their propensity to eat the church gardens but they were extremely entertaining to watch! Elizabeth seemed quite interested in all of the animals and although she stuck close to Mommy around the donkey and the goats she did manage to find the courage to pet one of the sheep while the goats were off butting heads elsewhere in the garden.
1
On December 8, 2009 at 10:00 pm
Grandma H.
said:
I'm glad you didn't eat the shekel, Elizabeth; they were for the beggars. I'm sure you will be a singing angel some day!
You might also like
- Walk through Bethlehem
(0.388954)
- River Oak
(0.36996)
- Mochi Making
(0.368365)
- Double deck train
(0.3625)
- Virtual School: Week 34
(0.360639)
All