June 17, 2017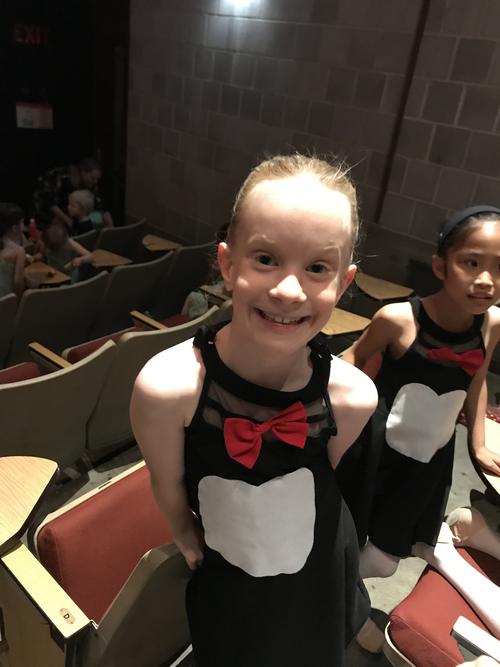 I don't think I've written about it, but Elizabeth joined her friend Olivia's ballet class this spring and today was the long awaited recital.
Olivia invited Elizabeth to join her at dance camp this summer, and before we signed up we thought it prudent to check out the free ballet class they were offering. Since Olivia was taking several classes a week and those classes conflicted with karate, it never occurred to me that we might be tempted to sign up ourselves.
But then Elizabeth moved to tournament team, suddenly "freeing" up her Friday afternoons, and it turned out that karate skills transfer to ballet more than I'd have expected, so Elizabeth wasn't completely out of place in the class. So when they invited her to be a penguin for their production of Mary Poppins, we couldn't resist Elizabeth's sales pitch.
I enjoyed the Mary Poppins ballet very much! I thought the dancing and choreography was quite well done for a production of this kind, and Elizabeth did very well indeed. We were extremely surprised to find that she had a role with a bit of personality. She carried it off very well. Daddy was especially proud of his "stand out" penguin. Grandma J, Lorianne, Auntie Janice and our family all came to cheer her on.
Lorianne was leaving for camp followed by a year in Spain right after the recital so we had a special farewell breakfast in the morning. We're going to miss her very much!!!
You might also like
- Social Distancing: Day 5
(0.386139)
- Family Day
(0.376209)
- Strike Day
(0.372067)
- 12 Days of Christmas: New Year's Eve
(0.370283)
- Silly Sock Week
(0.369803)
All