June 24, 2017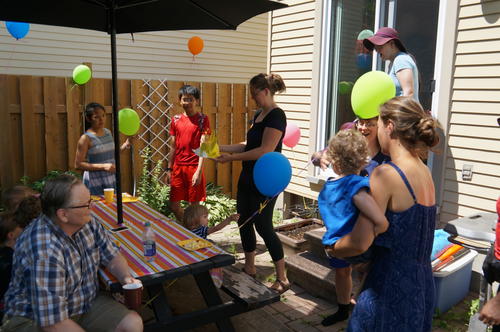 Isabelle (4!) and Theo (2!) had a joint birthday party with a rainbow lollipop and sunshine theme. There was rainbow fruit onna stick and lollipops the size of Amelia's head. Matthew is not a lollipop fan but I was surprised when he declined to take one.
There was much playing in the backyard. Isabelle requested a walking, barking puppy among other items on her list and we left it up to the kids to pick. Guess what they picked??? Possibly the fact that I desperately wanted such a thing when I was a kid and never received one may have influenced my agreement :)
Theo received a sprinkler to play in. The kids had trouble deciding whether to get a long sprinkler or a caterpillar that spat water but the one we picked looked like it would work well for lots of cousins at once AND it came with a downloadable app which was so ridiculous a concept that we had to choose it.
Auntie Karen made a gorgeous rainbow sun cake for Isabelle. Theo doesn't like cake but he does like Timbits. The result was Genius!
You might also like
- St Nicholas Day
(0.338882)
- Family
(0.337644)
- Adventure
(0.330128)
- Kid Math
(0.329412)
- Dance Camp
(0.328963)
All