July 28, 2017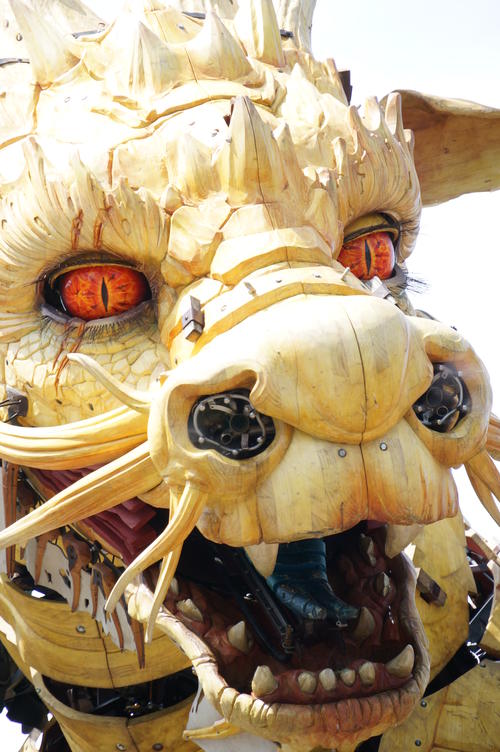 When they announced the various things happening to celebrate Canada's 150th year, one of things I was most excited about was La Machine coming to Ottawa.
"Watch a giant robot spider and dragon fight in the streets of Canada", they said.
"Long Ma, the half-dragon / half-horse creature, stands at 12 metres high, 5 metres wide weighs 45 tons, breathes smoke and fire, and can trot, gallop, rear up, and lie down. Kumo, the spider, weighs 40 tons, sprays water, and takes 16 people to control all its intricate movements. At rest, Kumo is 5.7 metres high and 6 metres wide, but she can reach up to 13 metres when in motion. Fully outstretched, she is about 20 metres. The Ottawa performance was La Machine's debut in North America, with a performance called The Spirit of the Dragon-Horse, With Stolen Wings"
It was EPIC. I contemplated going to the first show (when the spider "woke up" on the roof of Notre Dame Cathedral across from the "other" spider outside the National Art gallery) but was glad we decided not to since there was a lot of standing around watching.
Instead we found a spot along the route the giant robot puppets were supposed to travel and waited. Soon enough the dragon made her appearance. It was BIG! It was CLOSE! It was NOISY! (The kids were quite scared). I was supporting Elizabeth against a wall, with Matthew on my shoulders while holding Amelia so my ability to take photos was non existent. Elizabeth took some video and very nearly dropped the camera when Long Ma sprayed her with water.
The kids liked the spider better - it was not nearly as intimidating. Matthew still insisted on getting down from my shoulders so he could hide under my knees LOL.
Then we were surprised to discover that that wasn't it! A live band followed the spider, with all the musicians suspended in the air. "Music in the sky!!!" marvelled Matthew.
Once the parade passed us, we decided to head to the market to catch them a second time (essentially taking a shortcut to another point at which they were supposed to pass). Elizabeth was hoping to get sprayed again but the spider was only spraying the other side of the crowd, to her great disappointment. So she decided she was on team Long Ma.
I have to agree that Long Ma was pretty amazing.
And afterwards we stopped in at Olive and Chili's for bakery treats, so we got declared the best parents ever!
1
On January 1, 2018 at 09:30 am
Siri
said:
Unbelievable photos! What is your camera? For not getting much, this is unbelievable. I'd love to see what "enough" would have been! :)
You might also like:
-
The Big Clock
-
Snow, NAC, GNAG Halloween, dinner
-
Family Day
-
Nationals
-
Social Bubbles: Day 89