August 6, 2017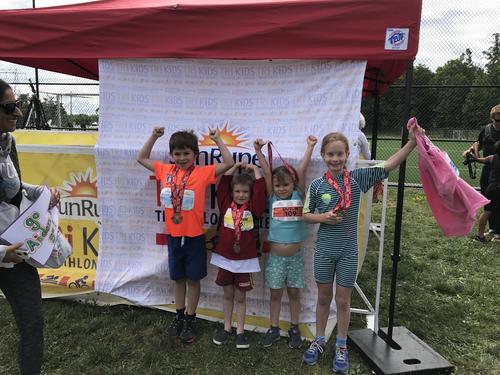 We had so much fun doing the triathlon last year on the way to the cottage that after checking with the kids we decided to do it again. Somehow the idea of driving more than an hour (one way) to do the Spartan race the day before cottage as well didn't seem doable though, especially since I'm struggling a great deal with motion sickness these days.
In any case, about a week before the triathlon Elizabeth decided that she didn't want to do it after all. Turns out that she hasn't been riding her bike much this summer because "she's not good at it" and "it's too scary" and "I'll fall off on the curves". I forget all of the excuses. Long story short we made her ride her bike a bunch and Brendan set up a complicated curvy course to complete. After that she admitted that she knew how to ride her bike and stopped actively complaining about "being forced" to compete.
The day of the triathlon was cold and windy, so I spent time frantically unpinning race bibs from their swimsuits and re-pinning them to sweaters in the car. We took a wrong turn and were a bit late getting there, so designated helper Brendan was also kicking off his shoes at traffic lights and handing them to me to be set up in transition. It was more than a little frantic, although Janice helped a great deal by bringing Elizabeth's bike in her car (ours was stuffed full of cottage gear). Next year we will have to remember that shoes get left in transition in advance so we don't want to wear them TO the competition. And maybe read the directions to the venue in advance. Oops.
Last year Matthew completed the course in 10:28. This year he finished in 10:33, despite his helper (Daddy) being much faster in transition. This can be entirely attributed to being so cold that he found it really hard to bike and run after the swim. We were very proud of him for persevering, although a bit bemused to find that it was easy for Brendan to keep up with him on the bike - normally he is fast enough that his parents asked (and received) permission to waive the rule to keep him within arms length as neither of us are runners of that calibre. Once he warmed up, he wanted to do another triathlon. Immediately.
Elizabeth was also extremely cold especially when biking against a pretty wicked head wind but unlike Matthew the cold seemed to inspire her - at least in the run portion where she passed several other kids and actually ran her second lap faster than the first! I was exhausted just watching. She was pretty tired after the race finished though. No discussion of wanting to "do it all over again right now" this year LOL. She figured that she went about as fast as she could in the swim-bike-run portions (although "maybe I could swim faster with more practice") but the swim to bike transition is still very much open to improvement. She lost nearly 45 seconds when she forgot to take off her goggles, and then her helper had a horrible time getting her helmet back on. Laced running shoes might also have not been the best choice. Then a kid in front of her on the bike course had difficulty getting going so the volunteer wouldn't let her start until that was cleared up, which cost another 30 seconds or so. Last year Elizabeth completed the course in 12:31. This year she finished in 20:55, but the distance for swimming tripled and the biking and running both doubled. She insisted on me figuring out how it compared to last year and after much watching of video and calculations we determined that she did the equivalent of last year in 11:16. So in the end she was super happy about her results and we were proud of her determination.
Friends Aidan and Caitlyn also did the triathlon this year, which was super fun to watch. Unfortunately Aidan's wave was a bit too close to Elizabeth's to watch the whole thing but we cheered him on as he swam! Elizabeth was chagrined to discover that Aidan beat her by 11 seconds - she wants a rematch next year...
All in all despite the weather everyone had a good time.
You might also like
- Triathlon
(0.498102)
- Karate Tournament, Birthday and ER Part 2
(0.474755)
- Homeschool wk may 11-15
(0.461227)
- London
(0.460575)
- Sewing with kids
(0.459333)
All