August 19, 2017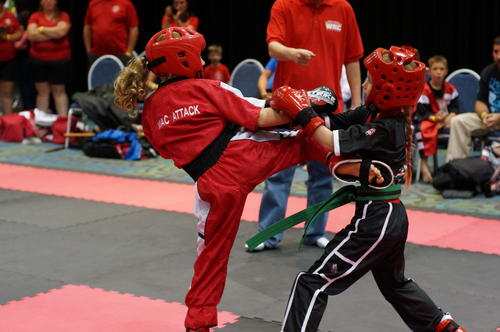 We came back from the cottage a day early so that Elizabeth could participate in one of the mandatory tournaments for her team.
She was SUPER nervous to the point of declaring her unwillingness to compete at all, but we were having none of that since she had recently begged to extended her membership on the karate team for another year.
After being convinced that we didn't expect her to win any medals, just to have fun and do her best, she reluctantly agreed that she would go but only to do her kata and only if both Mom AND Dad came to watch.
Once we arrived Elizabeth seemed less nervous. I was very amused that her teammate was having a similar fit of nerves, except that teammate was refusing to do her kata and only wanted to spar.
All that practice paid off when Elizabeth pulled out the best kata we've ever seen her do. Brendan had watched the training video quite a number of times while we were at the cottage and there were a few things we worked hard on the whole time. At this point we'd need more expertise to have any suggestions as to what to improve. Anyway we thought she was amazing. Her punches are particularly frightening as you can actually hear the air "snap" as it moves out of her way.
We were thrilled when her kata was good enough to place third out of nine very solid competitors.
Elizabeth was nervous about the sparring, but we set a goal of getting at least one point. She was very surprised when she absolutely demolished her first competitor 5-0. Unfortunately her second opponent turned out to be the gold medal winner, but Elizabeth still managed to get her point which was good enough for the bronze. In the end it was a very successful tournament and Elizabeth was very happy that she had decided to compete after all.
You might also like
- WKC Provincials
(0.435897)
- Inhouse Tournament
(0.418935)
- Burlington
(0.414609)
- WKC Worlds
(0.414405)
- Nationals
(0.414365)
All