August 25, 2017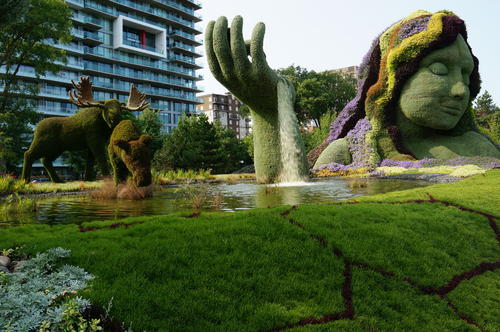 Margaret and I took the kids to see the special Canada 150 horticultural exhibit over in Jacques Cartier Park. Elizabeth and Matthew were not super excited about going to see giant chia pets in lieu of playing with their friends on the street but I dragged them along anyway.
I was a little surprised by the line to get in (caused by strict bag checks). We weren't sure what they were checking for but at least the line moved quickly! I expected we'd have to pay $20 for parking but someone was leaving as we arrived and offered us their ticket for $5 which was pretty sweet.
Elizabeth spent most of her time grumbling that she didn't like any of the exhibits because there were NO ELEPHANTS. I pointed out that Canadian history isn't exactly full of elephants. Apparently it should be.
The kids were pretty interested by how the exhibits were created. I could have spent quite a long time just sitting and enjoying the greenery - it was extremely beautiful! I don't think my pictures do it justice.
1
On August 28, 2017 at 05:12 pm
Grandma H
said:
Looks fascinating! Though I'm thinking that they had dragons; surely they could have thrown in an elephant! I like the look of the musk ox-wonder how they created that effect?
2
On August 31, 2017 at 08:42 am
Siri
said:
They are looking for hedge cutters!


You might also like
- Quilt Show
(0.38911)
- Bug Day
(0.387917)
- Dovercourt
(0.375479)
- Siblings
(0.373089)
- Rainy day
(0.369472)
All