August 21, 2017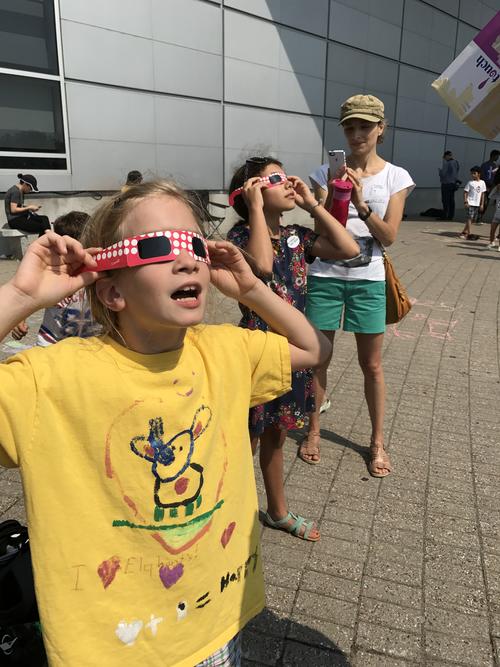 It was eclipse day and the Aviation and Space museum sent an invitation to come and look at the sun with telescopes and protective glasses so we hopped in the car and headed out.
I gather they expected somewhere between 500-2000 visitors; the final tally was closer to 8000! I have never seen the road to the Aviation museum backed up past Montreal road. I dropped Brendan and the kids off at the museum as I had to go to an appointment near by. By the time I got back the traffic was even worse, but quite a few cars gave up (maybe 1 in 5?) so it didn't take as long as I had feared. I was concerned about parking - there were cars parked all over the various parkways lined in both directions and cars driving along the bike path in order to get ahead of various lines, but I guess some people arrived and then decided they wouldn't be able to find glasses that they just gave up and left. So I found a spot and it wasn't even far.
Mila, Simon and their mom met us at the museum. Although the museum ran out of glasses pretty early on we found that people were very generous and willing to share. Janice lent us a pair as well, and helped make a pin-hole viewer so we were well equipped.
The kids all oohed and ahh-ed over the "bite out of the sun" - in our area it was only 61% but I was quite impressed at my view through the glasses.
The kids spent some time in the museum proper but the real attraction was hanging out the back and watching the airplanes and helicopter take off and land. I had given up hope of getting a glimpse through the telescope but on our way out I observed that the line had actually fallen to a mere five people so Elizabeth and I stopped to admire the last sliver of moon and check out the sun spots. Probably that cost us quite a few minutes in traffic but it was worth it. Looking forward to 2024 when the totality will be much closer to our area!
You might also like
- TriKids Triathlon 2017
(0.395246)
- Hike in the woods
(0.393375)
- Broken nose
(0.393069)
- First outings: Music, library, karate
(0.392484)
- Race weekend 2017
(0.388711)
All