February 17, 2017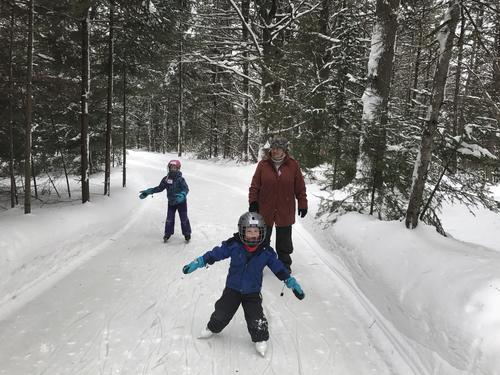 There's a new outdoor skating in the woods venue just outside of Ottawa and we decided that we HAD to check it out while Angie was here. We actually went on the 16th.
It was as amazing as I had hoped. We let Elizabeth skate around by herself as she was so much faster than the rest of us and the track was nearly empty of other skaters.
Unfortunately, I completely misread the map. I thought we had sent her around the loop with no possibility of getting lost. I was sure we'd meet her on the other side within a minute or two, but it turned out there were several turn-offs and the loop was much longer than we expected. I might have had a moment of panic, during which I may have skated faster than I should, caught my skate in the ice and fallen hard. It was a pretty good thing I was wearing a helmet; even so I was seeing stars for a few minutes. Otherwise I'm quite certain we would have been headed to the nearest ER.
In any case I was a lot more careful after that and we soon located Elizabeth. She had of course not come to any harm and was quite pleased at having a solo adventure.
It was a beautiful day, and gorgeous ice. Highly recommended!!!
You might also like
- Apple Picking Reprise
(0.367168)
- Boxing Day
(0.366806)
- An update
(0.362069)
- Earth Day
(0.360759)
- Pie Day #2
(0.360636)
All