February 28, 2017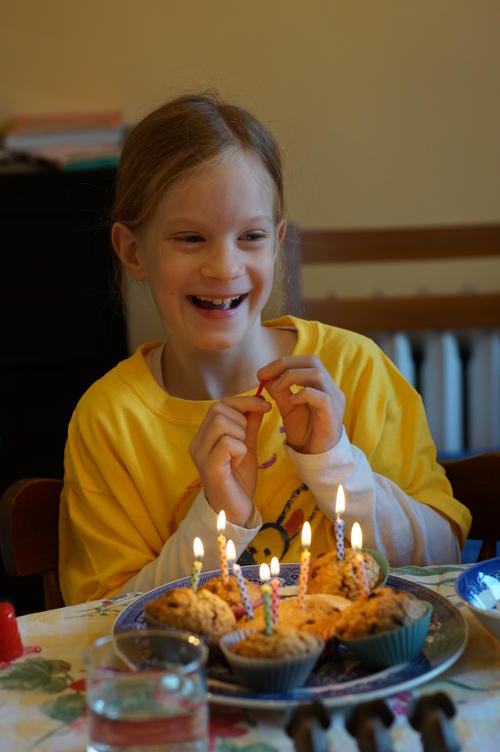 We had chocolate chip muffins for breakfast (partly because it's much easier to put candles into muffins than cereal!)
Elizabeth has been looking forward to eight because it's the age in Ontario where you no longer require a car seat of any kind. I wasn't so sure, but turns out she has a tall torso so not only is it legal but it appears to be safe as well. I fear it won't be long before she is taller than me...
Eight is fun because it's the age at which Elizabeth is picking up many new skills and/or surpassing her parents. She can play the piano better than either of us, and Daddy admits she's a now better swimmer and skater than he is (I'm not ready to concede... Yet). We sent her skating with Rachel and her family on the canal and she apparently did the length and held her own with the adults. Eight is the age when she can change a diaper, bake a cake by herself, and we're comfortable sending her outside to play with the neighbours.
Eight is pretty sensible and generally follows the rules. Elizabeth likes to know what is permitted and not permitted, so we give her a fair bit of lee-way. Eight is lenient with siblings tagging along, at least most of the time. She doesn't like them "meddling" with her things without permission though.
It's our family tradition that we go to a restaurant of the birthday girl or boy's choice. Elizabeth picked Swiss Chalet (of course). Elizabeth was thrilled that Auntie Mary was around and could come with us. We had cake afterwards at home.
You might also like
- Dovercourt
(0.398773)
- Halloween
(0.395437)
- River Oak
(0.39307)
- Sister Act
(0.390319)
- Skating
(0.389884)
All