September 9, 2017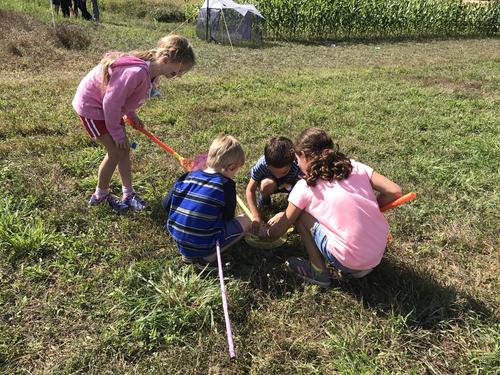 I wanted to take the kids to Bug Day, but just as we were leaving the neighbours came over and wanted to play. The best solution was clearly to bring Mila and Simon along with me.
Each kid got a pick their own butterfly pin (and then describe the butterfly to learn about naming). The girls opted to do the face painting, but Simon apparently doesn't like face paint and so Matthew decided he wasn't going to do it either in case Simon felt left out.
An entomologist then took us on a field expedition to catch our own bugs. Elizabeth spent the time freaking out about all the bugs, but did calm down enough to catch a grasshopper. The other kids had a ball running around chasing various insects. The boys were told in no uncertain terms that they could NOT catch other kids. Matthew negotiated a loophole whereby he was allowed to catch himself, but not at the same time as any bugs. We learned about various collection techniques. I'm told they don't use the mouth suction device for collecting insects off dung or dead bodies. Seems fair.
Then we went inside to sample some bug cookies, pet some cockroaches and watch said cockroaches "race". The bugs covered in jewels are apparently a thing in some parts of the world - people attach the bugs to a chain, which they then clip onto themselves. The bugs then crawl all over them. "Live jewelry"!
Afterwards we checked out part of the open house happening around the corner. They have 16 mini greenhouses where they can manipulate a variety of growing conditions - light intensity, temperature (day/night), moisture etc. It was pretty interesting and the kids enjoyed this part the most because they got to play a DNA matching game that rewarded them with candy. And THEN on the way out everyone was presented with a free granola bar of the kind that contains more chocolate than food. Everyone agreed that science is awesome.
You might also like
- Egg Hunt
(0.400385)
- Broken nose
(0.39924)
- 19th Annual Gingerbread Party
(0.395967)
- Ski Show and Douvris Halloween
(0.394056)
- 5th Birthday Party
(0.394043)
All