September 22, 2017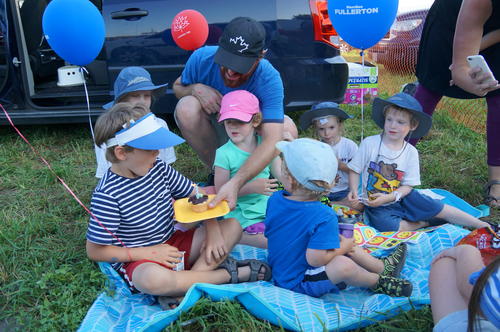 Xander is six so we went to the fair again to celebrate.
Conveniently, the kids had a PD day so we didn't even need to pull them out of school but just headed to the fair as soon as we got our chores done. It was pretty hot but we fit in many rides. By "we" I mean that the kids did as many as possible while the adults avoided as many of the spinning round and round in the hot sun activities as possible. Mostly Amelia could go with Elizabeth or even by herself but I did the Merry Go Round and a spinning elephant ride a couple of times and Janice did a couple of rides too. Grandma J took the older four on the ferris wheel, and Daddy went down the giant slide with Matthew.
The most popular ride was probably the train, although Elizabeth and Matthew quite enjoyed the dragon roller coaster. Amelia insisted that I hold her "tight" for the Merry go round and held on for dear life but by the fourth time she went around (with Janice) she was comfortable enough to have her helper let go AND she was even brave enough to wave!
After the fair we had cupcakes and presents in the parking lot.
You might also like
- River Oak
(0.379679)
- Butterflies 2017
(0.375176)
- Boxing Day
(0.367816)
- Lac des Loups
(0.366522)
- Cottage Days: Santa's Village
(0.354913)
All