November 7, 2017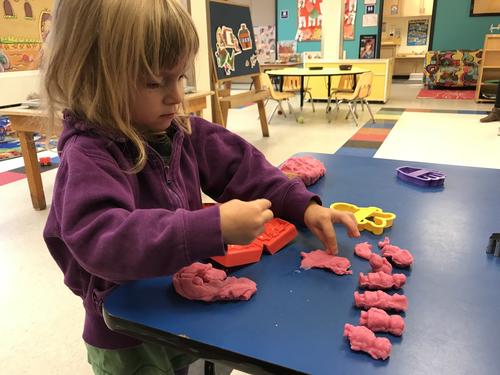 Since I'm likely to be slightly occupied at the beginning of next year, when I had the chance of doing an extra duty day for preschool in the fall term I decided I had better take it.
Amelia was quite pleased to show me all the things. We spent quite a bit of time playing with the train set. I even managed to more or less get the half dozen kids that wanted to play to work cooperatively to push the trains around the track for a bit. Amelia's certainly the only kid who can undress/dress herself to go outside and many of her classmates didn't seem to be in the habit of even taking off/putting on their own hats. Either their parents have way more time and patience than I do, or the kids are a lot younger than Amelia.
I brought rainbow fruit and muffins for the kids which was much easier to put out than some of my previous snacks while still satisfying my compulsion for all the cutesy.
You might also like
- Piano Recital
(0.382138)
- January Duty day
(0.372981)
- Melting
(0.365497)
- 52 cm of Snow
(0.360195)
- 4.5 Amelia
(0.358788)
All