December 6, 2017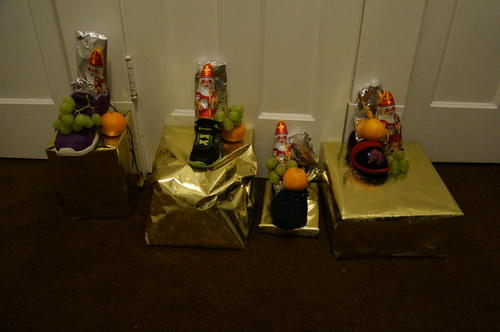 We introduced Katelyn to the chaos of St Nicholas. The kids still aren't sure if St Nicholas is real.
This year I acquired a loonie chocolate mold so I was able to make coins that didn't may contain wheat! Next time I'll go to the trouble of tempering it but I wasn't too sure if the Janice safe chocolate chips I was using would temper so I decided just to melt it.
We got Matthew a remote control car, with remote control helicopter that lifts out of the car. He destroyed it quite quickly but it was popular while it worked. Brendan was marvelling at how far technology has come since he was a kid!
Elizabeth received a kobo reader, to her great delight, and we got Amelia a talking dog. I accidentally grabbed the French version of the dog, which I decided was secretly brilliant once I got over the surprise. The only problem is that apparently Amelia isn't a francophone name, so the dog calls her "Emilia".
You might also like
- Lac des Loups
(0.359165)
- Come Sing Messiah
(0.348966)
- River Oak
(0.345052)
- Halloween
(0.341844)
- Home
(0.34134)
All