November 26, 2017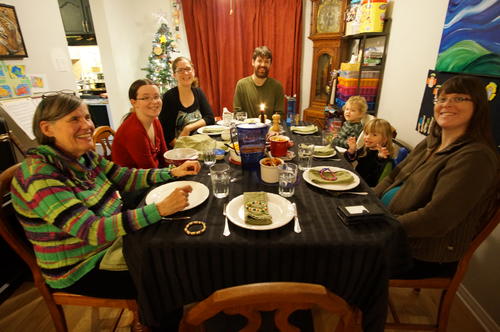 Dave and Karen and family are going to Angola for Christmas, so we decided to do the kids gift exchange and celebrate a little early.
Dave cooked a roast "sous-vide" for 48 hours. There was squash and sweet potato, broccoli and cauliflower and candy cane ice cream. Xander made everyone custom bracelets with pipe cleaners.
The cousins had a wonderful time playing together. Matthew was thrilled to get his long coveted walkie-talkies. Amelia got a flashlight, which she now sleeps with. They both received puppets - Matthew had a dinosaur and Amelia got an owl. We were very amused when her first instinct was to give the owl to Janice, because CLEARLY all owls belong to Janice (!) Elizabeth and Xander's presents are coming from Japan a little later - but they didn't mind too much because they got distracted by walkie-talkies very quickly. The only sad part is that the range doesn't go from Barrhaven to the Glebe. Well, let's be clear that I'm not sad about that!
Uncle Dave got a bonus gift of tree, which he's planning to use to make pens or other useful wooden things turned on a lathe.
You might also like
- Wedding prep
(0.391076)
- LRT Grand Opening
(0.383226)
- Erika is FIVE
(0.382558)
- Christmas
(0.380156)
- Christmas Pukefest
(0.375932)
All