October 31, 2017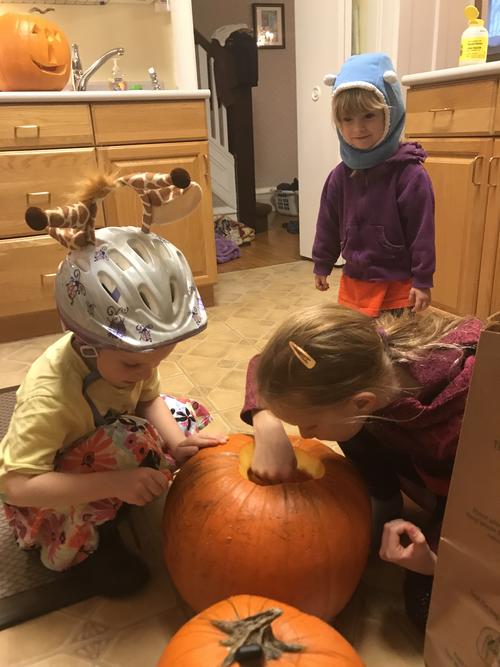 For Halloween this year, Matthew was Darth Vader (costume courtesy of neighbour Nelson down the street), Elizabeth was an elephant and Amelia was a dinosaur (we've gotten pretty good mileage out of that dinosaur, boy). Brendan was a giraffe (as usual) and I decided it was a good year to be a pumpkin.
It was my duty day at Amelia's preschool. We had a fun time reading books, being dinosaur vets and dinosaur fire fighters, doing crafts and then running around in the gym upstairs. For snack I brought ghost cheese, spider crackers and apple teeth.
After school we made some Halloween themed snacks and invited all of our neighbours to come join us for some supper before heading out trick-or-treating.
Elizabeth left by herself with her friends Mila and Bianca to go hit about a million houses. (I did check that they had adult supervision!)
The rest of us made our way down our street at Amelia pace. Matthew ran on ahead ringing doorbells which was extremely frightening - luckily my neighbour was able to go ahead with him. Eventually Brendan was able to join us and take him in hand and we all set out to go to Fourth Avenue where there are two houses that apparently compete to have the most over-the-top decorations in Ottawa. The one had an indoor AND outdoor component and we admired their dedication from afar. "That's too scary for me", decided Matthew. The other one was much less intense so we went to laugh at the dancing skeleton and get some candy. I should have brought a stroller for the way back but was luckily able to borrow one - it was pretty cold especially for Matthew who refused to wear anything except his costume and our kids lasted much longer than expected. Elizabeth wasn't super pleased that we stayed out longer than she did. This is apparently not how it's done.
But everyone had a good time and it was nice to catch up with our neighbours.
You might also like
- Halloween
(0.44085)
- Halloween
(0.438935)
- Missed the bus, Concussion, Matthew gets a stripe
(0.433794)
- Halloween
(0.432069)
- Delayed Halloween Party
(0.431174)
All