December 1, 2017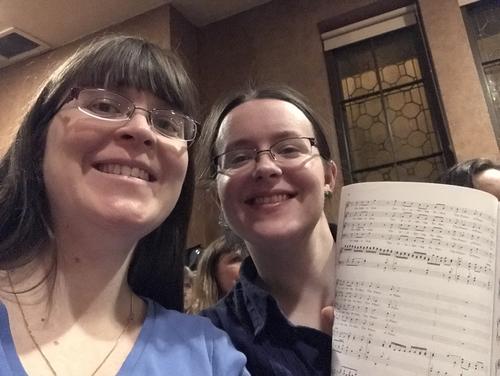 Janice and I went to Come Sing Messiah again. It was just the two of us this year, which was a little strange. Always a good time though.
This year I was unable to go to the first rehearsal due to logistics, but I decided that we'd go a few minutes late right after skating on week two.
Matthew came with me first, and then I traded children and took Elizabeth for the second half of the rehearsal. Matthew has had some difficulty sitting quietly and still recently, so I wasn't expecting to do much singing while he was there but he completely shocked me by not only being quiet but engaged. He followed along with the music and did his best to sing. He's looking forward to the day he can sing with the boys, apparently.
Elizabeth was equally well behaved and is starting to get to the point where she knows the music. I didn't bring her to the actual performance this year because she had tournament team and isn't going next week. Next year will be her tenth year of attending rehearsals though, so I think I'm going to take her then.
Had a lot of comments about how well behaved they were, and a few people remarking how big Elizabeth is - as they remember when she was very small!
The following week Janice and Amelia joined me for rehearsal. Amelia actually stayed for the whole thing, but did quite well nonetheless.
You might also like
- Come Sing Messiah
(0.44089)
- Piano Recital
(0.428375)
- Orchestre
(0.411361)
- Party
(0.408543)
- Cottage Days:Cousins
(0.407101)
All