December 28, 2009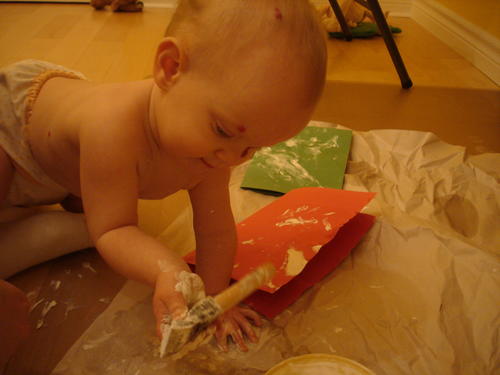 Painting with small children seems to consist primarily of using said children as a very large stamp. So far many of Elizabeth's art projects have followed this pattern:
Take bare foot.
Cover in paint.
Press firmly onto surface.
Repeat.
This can be varied by using hands or fingers instead of feet.
When we found ourselves without labels for our Christmas presents, I thought it might be nice if Elizabeth made some. I didn't have the energy for using her as a large paintbrush, so decided to just let her loose with some paint. Only a few weeks ago she spent the entire time trying to eat her paint covered fingers while I gamely "helped" her make fingerprint wreaths. (I didn't post the picture of the completed fingerprint wreaths back then since they were a Christmas surprise, but you can see them now by clicking on the picture beside this post)
I'm not sure if she remembered her recent crayonning experience or what, but we were very impressed when she not only put paint covered fingers to paper but went back to the paint for refills on her own. Very seriously, and with great concentration, she went from paint to paper and from paper to paint, over and over again. She didn't even try to eat the paint, although when given a brush the temptation to put it in her mouth became overwhelming!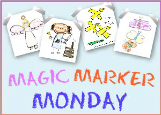 1
On December 29, 2009 at 11:28 pm
Marie
said:
Love it! She looks so serious about her work!
2
On January 3, 2010 at 04:15 pm
Childlife
said:
I hope you included photos of your little painter with hand-crafted labels -- that photo is just too cute for words! :D



And way to go Elizabeth!



~Michelle @ 5MFSN


You might also like
- Christmas Cards and Crayons
(0.449657)
- Aqua Doodle
(0.42723)
- Arts N Crafts
(0.426724)
- Valentine's Desk
(0.425598)
- Playdough
(0.408068)
All