December 3, 2017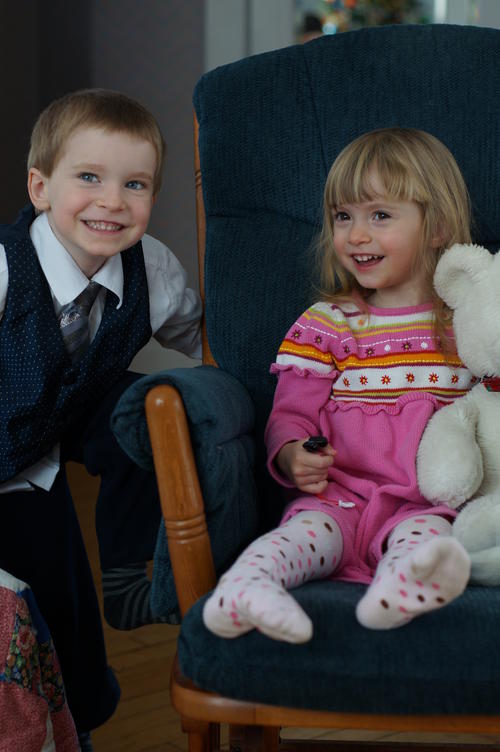 At two and a half Amelia seems much older than the other two and half year olds we know, aside from when it comes to potty training. Possibly due to some digestive problems that we're working on with a gastroenterologist (the current theory is that she needs more fibre and less sugar in her diet) she doesn't seem to know whether she's peed or pooed in her diaper. She'll sit on the toilet but seemingly has no clue what it's for. Certainly she's never actually produced anything. I'm assuming she'll make up her mind to figure it out one of these days, because getting her to do something she doesn't want to is challenging. She's very independent and getting more so. She does not like having help if she hasn't asked for it and will throw a big noisy fuss if she isn't given a little bit of consideration. In general though she's pretty easy going. After all she has two bigger siblings to boss her around!
She now sleeps nicely in her own room and mostly doesn't wake at night. She's a bit more of a Daddy's girl than the other two were at the same age, certainly the only kid that I've gone to comfort in the night and been told "Noo not you! I want Daddy". Of course if Daddy goes then she wants Mommy. In the morning Amelia usually gets dressed by herself or with the help of her siblings.
She's extremely verbal and picking up and using some French words now as well as her quite extensive English vocabulary. She knows all her colours, most of her alphabet and most her numbers.
At preschool she's reached the "march in without looking backwards" stage. She loves preschool days. Actually she seems to enjoy her routines generally. Mondays we do music "Music yay yay yay" and then we go to the library. Tuesday is a preschool day. Wednesday we have house group at church (and we must NOT forget our church shoes or snack). Thursday is another preschool day and often Grandma comes to visit. Fridays we don't have anything specific, and she always complains. Saturdays we had skating and it's our chore day. Sundays we go to church (yes, with the shoes).
She doesn't eat a ton at once, but is a pretty good eater if given enough time. She doesn't like to eat quickly or by herself! She has a definite sweet tooth. She likes most meat - especially sausage. Other favourites include pasta, peas, salad and cheese.
Favourite toys include her ride-on car that plays music, Elizabeth's shopkins, dolls in her doll house and various stuffies. She's pretty big into imaginative play and can play by herself for quite a long time, though she prefers to have someone nearby. She loves to dance, especially if she can wear her ballet slippers (a hand-me-down from Isabelle).
You might also like
- Amelia is five
(0.457766)
- Amelia is three and a half
(0.456686)
- 4.5 and 8.5
(0.456414)
- 21 Months
(0.455932)
- 18 Months
(0.453624)
All