December 25, 2017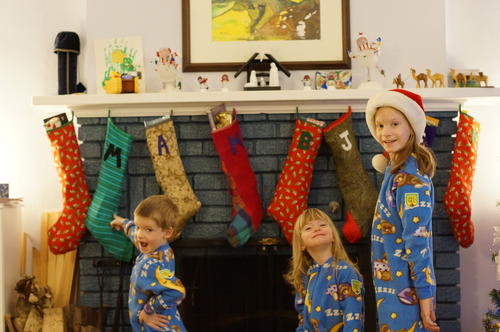 This was the first year that Elizabeth didn't exactly ask for any toys, so we didn't get her any. She was super excited at first to unwrap her books and especially thrilled by all the karate gear. And then she noticed she didn't get any toys and she was SAD. Elizabeth and I sat and played with a toy she got for her birthday last year (and hadn't even unwrapped yet, that's how much she doesn't need toys) and talked a bit and eventually it came out that she was mostly sad not because she was jealous (although that was part of it), but because she's in the transition period where sometimes she wants to be "big" and sometimes she is still "a kid" and she miscalculated how she'd be feeling about it on Christmas day. She cheered up quite a lot after this conversation but Brendan and I were left a bit dismayed.
Ironically, one of Matthew's most exciting presents wasn't a toy, but a REAL hammer and REAL measuring tape all his own. He was also very excited to get more snap circuits ("I get to build a bug that walks!").
Amelia received a code-a-pillar which is a singing caterpillar that teaches pre-coding skills, changing direction depending on what order you put it together in. She found it completely terrifying at first, but after a while was willing to watch Elizabeth play with it.
We had turkey dinner at Grandma Margaret's because with Dave and Karen away for Christmas we actually could all fit around her table! Auntie Heather brought Andre and Andre's brother and we had crackers and no one ate any of the pudding charms. The pudding was better than last year and people seems to enjoy but still rather dry according to my books. Not sure if I'm overcooking or under steaming but the solution is just to make (and eat) more pudding so there are worse problems to have.
You might also like
- First outings: Music, library, karate
(0.42)
- Virtual Piano Recital
(0.41828)
- Chickadees
(0.416051)
- Amelia 20 Months
(0.414286)
- New Year's Eve at the Hippo House
(0.41324)
All