December 24, 2017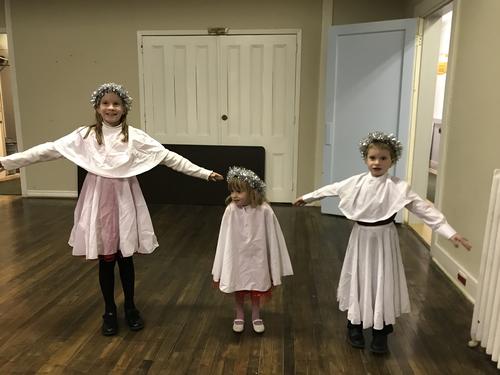 Twas the night before Christmas, which meant we got to go to Church in the morning AND the evening.
The kids got new dress clothes and were pretty happy about it, although Elizabeth is showing signs of no longer thinking it's cute to match her little sister.
In the evening I helped dress the kids for our spontaneous pageant and narrowly escaped having to play the part of Mary. None of the girls want to be Mary - apparently the angel costumes are "better" and "Mary has too small a part". I was relieved when a willing Mary arrived about thirty seconds before the start of the service. The kids brought the crèche figurines down the aisle and while Matthew (of course) dropped one, luckily it did not break.
My kids were all angels. Janice had asked Amelia what she wanted to be in the pageant. She had told me "a Monster" earlier but I was having none of that. Auntie Janice got "I wanna be Airplane". As Janice put it: "But Amelia, there are no airplanes in the story." A: "Airplane, Airplane! I'm going to be an airplane!". J: "What about an angel? Angels fly, just like airplanes?"
A: "okaaaaay" she acknowledged reluctantly. And then dived into her role with more glitter and pizazz than any of the other angels in the room. It was epic. She certainly had quite the stage presence. Grandma J thought it was quite funny to see Matthew as an angel. Angelic isn't usually how one would describe him, I must confess.
After church we headed home to open our Christmas pjs and have some GF tourtière that I bought from Pete's. I read the night before Christmas in front of the fire, but that sounds more idyllic than it actually was, since the kids starting jostling for lap space and eventually Elizabeth stomped off in the middle of the story. Then the kids took an inordinate time to settle down because they were too busy admiring the glow in the dark words on their pjs. It was nearly 10pm before the kids all got nestled into bed. Oh well!
1
On June 3, 2018 at 10:29 am
Grandma Henderson
said:
Well, he certainly looks angelic!
You might also like
- Visiting Great Grandma
(0.391037)
- Erika and Maria
(0.389046)
- Christmas Eve
(0.388421)
- End of an Era
(0.388309)
- Christmas eve service
(0.385447)
All