December 31, 2017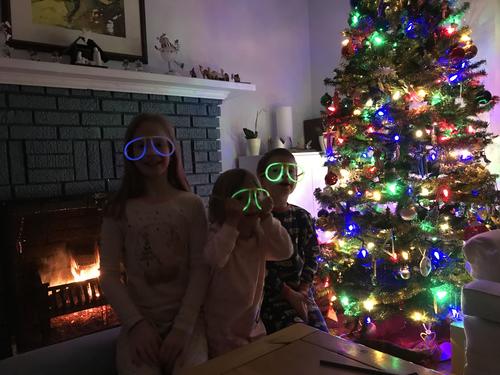 New Year's Eve started out badly with Amelia announcing she had thrown up in her bed. So she crawled into ours and promptly threw up there, too. After a bath she insisted she wanted breakfast and ended up eating quite a lot despite my best efforts and then was pretty much fine for the rest of the day. Having finished off her food last night I'm still a wee bit worried just in case, though she does have the same wicked cold I do and it could have been coughing fit related.
After breakfast we decided it was time for a hotly anticipated "Dance Party" (one of the Christmas activities that the kids decided we must do). We played wii games, some Apple TV dance thing and DDR. You will be relieved to know I did not unduly exert myself. Amelia danced with great vim and vigour, leading us to decide that probably she does not have stomach flu.
After lunch the kids all needed to get out of the house so I proposed a little grocery shopping expedition. I know it hasn't been 24 hours since I last left the house but I was feeling serious cabin fever so I insisted on going along. Brendan made me take my blood pressure first (it was fine).
We had beef fondue in front of the fire, with broccoli and peas. We hadn't intended to have peas for supper but according to Elizabeth we ALWAYS eat peas New Years Eve.
Then the kids put on glow in the dark glasses and we watched the grand finale fireworks Auntie Janice taped in August and counted down to Brazilia midnight.
Happy New Year everyone! May you have a wonderful 2018!
1
On January 1, 2018 at 06:22 am
Grandma H
said:
That's awesome, Janice to tape fireworks in August!
2
On January 1, 2018 at 01:47 pm
Grandpa H
said:
I don't recall peas going with beef fondue but - whatever... ;)
3
On January 1, 2018 at 10:30 pm
Mary @ Parenthood
said:
We don't recall this either... But since I took photos of the last few years I was able to go back and verify.



2016 and 2015 we had broccoli, not peas. But we definitely had peas in 2014. No idea in the years before that but I wasn't about to argue LOL.
You might also like
- Broken nose
(0.403808)
- Grading for a brown belt
(0.403509)
- Welcome 2019
(0.399267)
- Family Day
(0.398895)
- A shower and the Great Glebe Garage Sale!
(0.398489)
All