December 30, 2017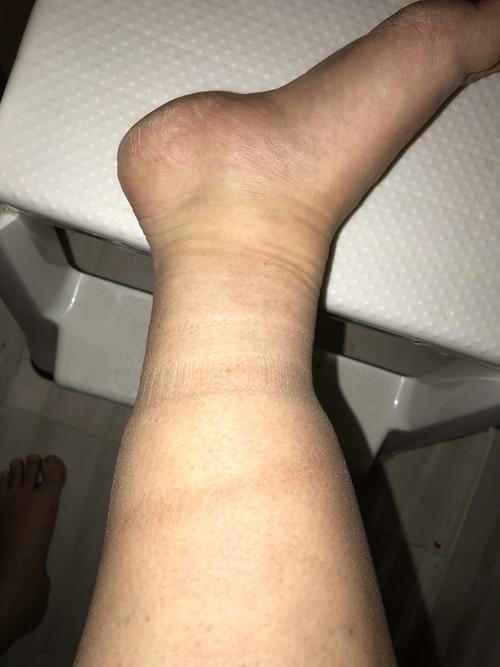 For the first time in four pregnancies I've had to remove my wedding ring and leave it off due to swelling in my fingers. I did have some trouble with swelling feet, but this time around I'm having trouble fitting into my boots - if I wear them somewhere and take them off there is no guarantee I can get them all the way back on when it's time to go home. The marks in the photo are from my "loose" socks (which I don't like normally as they fall down). The dark line is bruising from socks worn last week, and when I take off my socks the skin is numb and tingly.
I've had a few other warning signs that mean that I'm now under instructions to take it VERY easy and to monitor my blood pressure.
Baby day is coming fast but since my blood pressure is going up and down like a yo-yo there are questions as to whether I'm actually going to make it to my C-section date. I really hope so since I have a terrible cold, stuff still to do, my wonderful OB is on vacation and my mom's not here yet...
In any case Brendan and I got to verify that we still know our way to the labour and maternity ward at the Montfort today, but since my blood pressure had gone down again by the time they were monitoring things they sent me home with instructions to keep my feet up and take it even easier than I had been. Just when I want to be out and doing all kinds of things too... Sigh.
1
On January 1, 2018 at 01:47 pm
Grandpa H
said:
Well daughter dear, you had better behave yourself... not swanning out shopping and such... only 9 days, you can do it! :)
You might also like
- Weather board
(0.375616)
- Mooney's Bay
(0.372352)
- Fall
(0.370417)
- Shark!
(0.370326)
- Hair Tourniquet
(0.369757)
All