December 28, 2017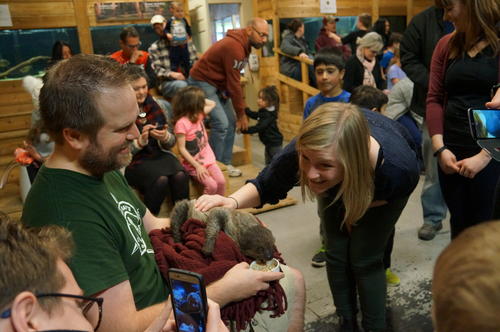 Rachel and Creighton were back in town for Christmas and we decided to go to see the baby sloth at Little Ray Reptile Zoo. (Rachel LOVES sloths, as it turns out)
Of course, we were all loaded into the car before we discovered that the extreme cold had caused our van battery to completely give up. This was extremely disappointing as Elizabeth really wanted to see Rachel so I texted our various neighbours to see who might have jumper cables. Imagine our gratitude and surprise when Marit replied with the offer of their van! Time was short so we took her up on her very generous offer and off we went to admire the animals. Rachel was swarmed by small children as usual, although Matthew deserted her in favour of his "number one buddy" once Victoria showed up.
Petting the sloth was definitely the best part...
We brought back the van and then headed over to Lauren and Ronnie's for neighbourhood pie day and a whole lot of playing.
You might also like
- Wedding #RayCray2016
(0.372263)
- Number One Buddy
(0.359511)
- #Jessdoesthemath
(0.353627)
- Strawberry picking
(0.352593)
- Operation Little Glass Robin
(0.351592)
All