January 3, 2018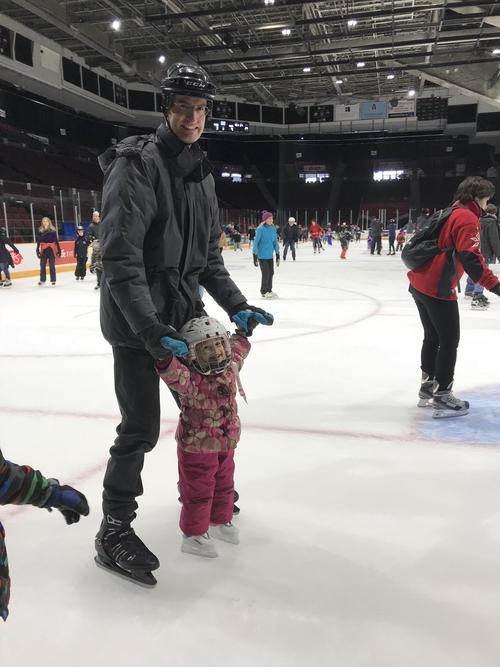 In addition to taking my blood pressure and trying to keep my feet up, we've tried to do a few fun things these holidays.
It's been pretty cold, but they've spent a lot of time outdoors, especially between Christmas and New Year's when the wind was slightly less wicked. The neighbours helped Elizabeth and Matthew build an ice slide. Dec 27th Elizabeth had a playdate with her friend Ruici.
I cleaned out the craft cupboard (at least for some value of clean). Elizabeth graciously allowed her siblings to do some of the crafts that have been languishing there for several years. I was surprised by how long the princess sticker craft kept Matthew busy - he was quite determined to finish it and he managed to do most of it by himself. Once Elizabeth realized he was actually going to finish, she decided she needed to as well. This is actually her third attempt in the last four (five?) years but I guess her competitive nature needed to get engaged in order to actually capture her interest for longer than about five minutes.
We also pulled out Amelia's rocket ship from last Christmas and finally assembled it. I think the kids must have spent a solid hour colouring it inside and out.

We've done some reading and demolished the gingerbread. Elizabeth and Matthew built an obstacle course for his robot cockroaches. There were more dance parties.
On January 2nd, Elizabeth had a playdate with Olivia while Amelia went to the hardware store with Daddy. Matthew and I read about the sinking of the Titanic and did some work - which in his case involved playing Pokémon on the iPad. After lunch Brendan, Amelia, Matthew and I met up with Olivia and Elizabeth, Dianne, David and kids and Marit, Francesco and their kids at Landsdowne for more skating! Elizabeth was pretty excited to see so many people she knew on the ice. This time we were there for about 3/4 of an hour and Elizabeth completed 40 laps.
Brendan, Margaret and the older two kids went back one last time the following day and Elizabeth managed 67 laps in about 30 minutes (!)
Over the holidays Matthew had some homework to complete showing what he did, which I decided needed to be captured for posterity (we didn't actually see fireworks on Jan 1st but he was so proud of his idea that I just went with it)
You might also like
- Home
(0.423461)
- Double Digits
(0.42217)
- Welcome 2019
(0.417376)
- Our sewer is no joke
(0.416228)
- The Big Clock
(0.41604)
All