January 6, 2018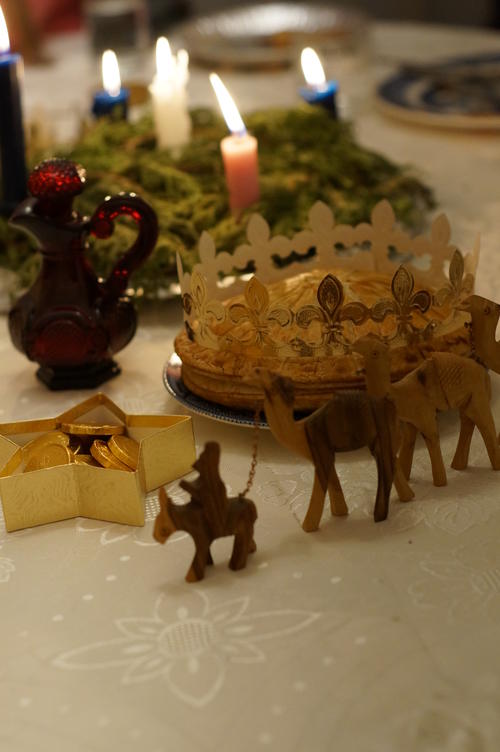 Christmas is over (sniff) so it's time to move on to the next season. The tree came down, decorations put away and out came the magi! We might have lit the advent wreath and sang O Come O Come one last time. After all, Elizabeth hadn't had a chance to ring Auntie Janice's big bell yet!
For supper I ordered a Galette des rois from Olive and Chili again. We tried to have tourtière too, but had to settle for a beef pot pie instead when our local store was inexplicably out of tourtière. Sigh.
As usual, I forgot to find some frankincense. Our myrrh is still going strong though and I remembered the chocolate gold coins.
Matthew chose the piece with the fève and got to be king. We had crowns for everyone though because we decided to do a little parade this year. Brendan and Janice opted to be stars.
After supper we did a slightly abbreviated liturgy of the chalking of the doorway (it was already past bedtime and it was COLD out there!). Then Daddy lit our sparkler and we all sang We Three Kings while marching around the "star". It was so cold the sparkler had a hard time staying lit.
As soon as sparkler was done we came in and (still singing) headed straight to bed.
You might also like
- Epiphany
(0.408392)
- Epiphany
(0.388)
- Epiphany
(0.383686)
- Bogonning
(0.369213)
- We three Kings
(0.368195)
All