January 24, 2018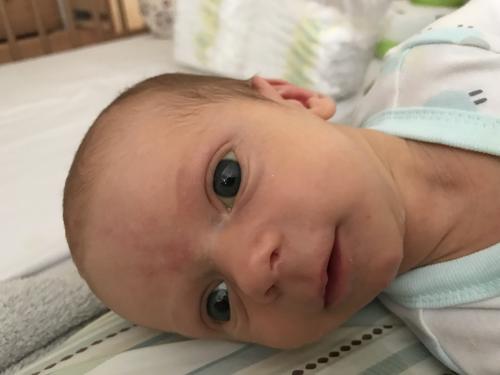 Two weeks! Recovery so far has been more difficult than anticipated, which means that baby and I have spent much of the time upstairs in bed. Since he's at the nursing all day and night stage, unless he is sleeping or pooping this hasn't exactly been a big deal.
Michael is definitely adored by his siblings, who all fight over who gets to feed him his daily vitamin. Elizabeth is definitely smitten and is old enough to be useful holding him and carrying him around - I highly recommend an eight year gap between siblings at the newborn stage anyway.
Michael hates being cold and rarely cries except when being changed (because he's cold). Usually he'll give a single small cry "waaa" when he's upset - it's more of a complaining wail than anything; before working up to real crying if whatever it is isn't rectified promptly (dirty diaper; gas; hungry). I don't find him particularly fussy.
Everyone is relieved that he isn't projectile vomiting like Amelia (yet?). Daddy spends a lot of time looking at his eyes to see if they will be changing from their current blue.
Also today: Riki and Dave from our house group stopped by with a meal and to get in some baby cuddles.
You might also like
- Michael at 1 month
(0.4)
- Four months
(0.387991)
- Michael at 2 months
(0.387597)
- Nine months
(0.370607)
- Backyard camping
(0.367251)
All