February 3, 2018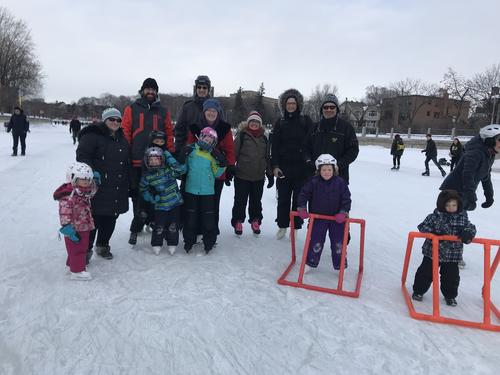 My Uncles Carl, Robert and Murray, and my Aunts Judy, Val, Mary and Joanne all came to visit us this weekend. It's been a LONG time since most of them have been so it was VERY exciting.
Robert, Val and Murray had to leave early Sunday morning, and Joanne wasn't able to arrive until Sunday afternoon after she got fogged in at the airport but it was super nice to see everyone on our home turf.
Elizabeth and Aunt Judy got into a bit of a gymnastics competition that ended with Judy demonstrating that she can still pull off a headstand with the best of them. Unfortunately I *just* missed documenting her triumph for posterity.
The kids were pleased that they got to go skating on the canal. Elizabeth thought she ought to have been allowed to go see ice sculptures too but it was pretty late so not this year.
You might also like
- An update
(0.362731)
- Rachel and Andrew
(0.359459)
- First Canal Skate 2013
(0.349673)
- Happy Birthday Uncle Chris!
(0.34964)
- Visitors
(0.348754)
All