February 15, 2018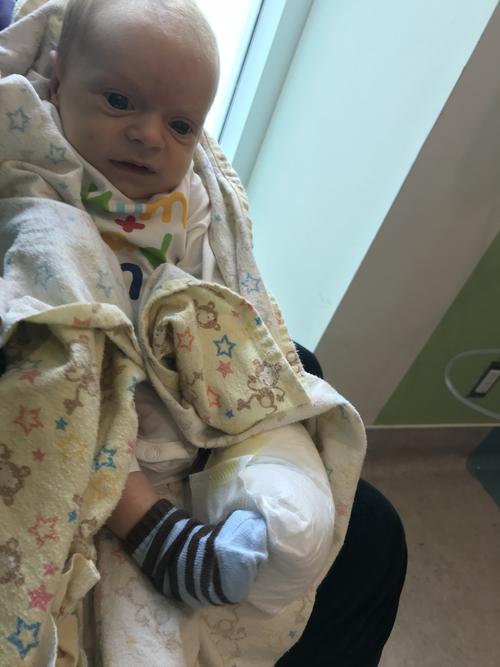 Michael's bloodwork came back with a request for us to go visit pediatrician Dr Stevens so after we bid farewell to Uncle Chris we hopped in the car and went. Turns out his bilirubin levels are still high and so we were asked to go to CHEO again to check that the levels were coming down. This time she asked us to go to emerg instead of the lab so as to get same day results.
We were also given Amelia's ultrasound results - as suspected her umbilical hernia is still open. We are being referred to the CHEO surgery department for an evaluation.
Brendan dropped me and Michael off at CHEO emerg, where I was dismayed to find a line for triage right out the door! Indeed it stayed that way solidly for two full hours! The second triage nurse confirmed that it was unusually busy. It's apparently been like this for the last three weeks. "The flu season has been particularly hard on kids this year", she said. "But in most cases we are seeing parents with poor coping skills who don't know what to do with their kids coughing constantly. They just need a bit of reassurance." Seems to me there must be a better way!
In any case we eventually got a room to ourselves which was a great relief as I was stressed about picking something up from all the sick kids! Then there was a warm diaper put on his foot to promote bleeding. It didn't work. Michael is apparently a slow bleeder. Eleven minutes of crying despite sugar water and trying his first soother ever before they got the vials they needed. "I hope we don't need to take more", he said. "It's starting to clot". By this time I had a migraine so I was glad when Brendan was able to come join me bringing ALL THE MEDS and some food. Not to mention expertise in figuring out how to lower the hospital bed so I could lie down and whimper while we waited...
It took five hours overall, but in the end his levels are indeed down slightly. The very nice ER doc says everything is probably fine so long as Michael stays well and gains weight over the next two weeks.
You might also like
- Home
(0.472393)
- Healthy Girl
(0.446142)
- Virtual school: Week 4
(0.43824)
- Hair Tourniquet
(0.432485)
- 19 months
(0.431227)
All