December 27, 2009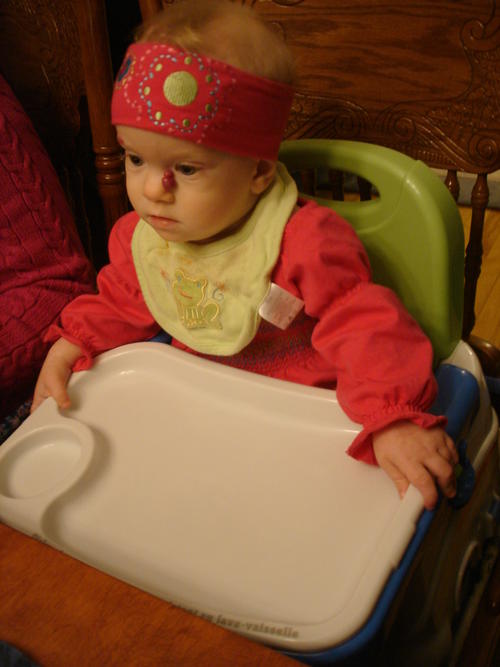 Elizabeth (and her parents) had a wonderful Christmas filled with friends and family. The big challenge after Christmas is going to be getting Elizabeth back onto something resembling a normal schedule, as she has been staying up until 10pm every night since Christmas Eve!
This set of photos is from a dinner party at Uncle Chris and Auntie Yukiko's in honour of friend Astra and her mom Vera (not pictured here, but I heard that maybe mom Vera will send some photos for the blog - hint, hint...)
We got to try out one of Elizabeth's Christmas presents for the first time: a Healthy Care combo booster-seat / portable high chair from Fisher Price. We'd definitely recommend this one - it folds very small, is easy to wash and even Mom figured out how it goes together first try. (I had to practice opening and closing our stroller before I got the hang of it, so I take the learning curve on operating baby equipment seriously!) Initially we thought it had too many trays, but after using it we were grateful that we could just take off the dirty eating tray and have a clean "playing" surface for Elizabeth to use. There's even a lid for the eating tray so that you can take it home and clean it there. In theory it goes through the dishwasher, though that's a feature that isn't aimed at us dishwasher free folks.
It has three height settings on the booster seat, and we were slightly disturbed to realize that Elizabeth is actually tall enough now that she could reach the table on the highest setting. We're planning to use the highchair version with the tray for now, until she can be trusted not to pull the table cloth onto her lap...
1
On December 29, 2009 at 11:30 pm
Marie
said:
Love the little headband. Elizabeth is a cutie!
2
On December 30, 2009 at 04:39 pm
Stephanie
said:
We have that same seat and it is fantastic - compact, portable, and easy-to-clean!
You might also like
- Christmas with Great Grandma
(0.387063)
- Matthew's first skating class
(0.376782)
- Mother's day karate, spring fling and recital
(0.37631)
- Erika and Maria
(0.376102)
- Colonel By Day
(0.374885)
All