February 23, 2018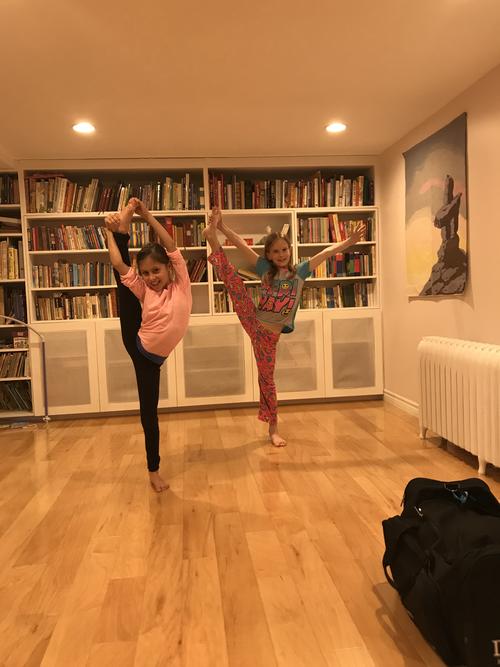 Our friends Rob, Jill and their kids Rachel and Andrew came to visit us again as Rachel had a skating competition in Ottawa.
There was much baby cuddling. Jill says to tell everyone that Michael is even cuter in person than in his photos.
Elizabeth and Rachel spent a good chunk of Thursday evening showing off their flexibility. Elizabeth and Matthew demonstrated their karate. Not to be outdone, Rachel showed off her jumps (seriously impressive). There was a wee bit of competitiveness going on and I was relieved that we got through the evening without any injuries right before the competition!
Friday we had planned to go skating on the canal, but the weather did not cooperate. The canal is now closed for the season. Actually the weather didn't cooperate with our backup plan to skate on parliament hill either - by the time Rachel was done her competition it was POURING freezing rain and there were accidents galore on the highway. The school buses had been cancelled so we kept the kids home. Fridays Brendan has the car for his morning meeting and we would have wanted to get the kids before the freezing rain so there didn't seem much point in the extra driving.
Rachel won a gold medal and is going to provincials next month, which was pretty exciting. She and Elizabeth were so cute comparing medals (skating vs karate). The kids all got along extremely well. All too soon it was time for Rachel and Andrew to go. Elizabeth and Matthew thought they should have stayed with us for two nights instead of one, but since Elizabeth has ballet and karate Friday evenings and didn't want to miss any of it the lure of a hotel pool was too good to pass up. Actually we thought about joining them but the timing really didn't work out so we decided they just have to come and visit again :)
You might also like
- First outings: Music, library, karate
(0.432044)
- Virtual School: Week 37
(0.398573)
- Party Van
(0.39821)
- Burlington
(0.398139)
- Virtual School: Week 11
(0.397448)
All