February 26, 2018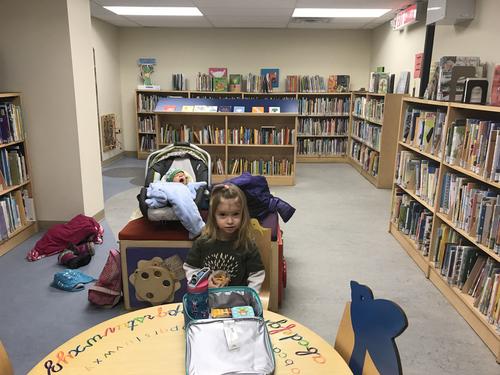 While I've been recuperating at home, other people have been stepping up to take the older kids to their various activities. Brendan says that one of the things he's missed most is my help with the driving - he feels like he spent the last month in the car! I'm not the only one excited to get my wheels back.
Monday mornings Amelia has music class with Mrs Shana. My mom and I took Amelia to her class the week of Michael's birth as a transition. Then the following week, Amelia got to have TWO grandmas at music class. She seemed pretty tickled about the two grandmas, but by the next week she was quite definite that she only needed one grandma at music class. Luckily she decided that it would be acceptable for that one grandma to be Grandma Margaret, since Mom isn't on our insurance and had no way to get there! Margaret has been taking Amelia pretty much every week since.
This morning Margaret was in Mexico. Amelia was not amused, but grudgingly accepted that maybe it would be okay if Mommy came to music with her and Michael. So off we went. Michael slept through most of the class quite obligingly. When he woke up, Shana helped hold him for a bit when Amelia decided that she needed me to carry her (I think Amelia was feeling a bit jealous!)
After music we headed to the library for a snack. We even got to wave to the passing train on the way, so Amelia was super pleased about that. Michael got his first library card and a welcome book.
In the evening Matthew didn't want to go karate because he wanted to build legos, but since he's been building legos non-stop since Saturday we thought better go work out some of that excess energy. Plus our deal is that if Matthew wants to quit karate then he needs to tell us that at an appropriate quitting point, and not five minutes before a class. Matthew says that he doesn't want to quit, he just wants to build legos and then go to karate after. He told me in the car that he wants to learn kung-fu instead because it's taking too long to get to the fighting part of karate and his friend says that kung-fu is better. (I pointed out that he'll get to spar sooner if he actually goes to his classes...)
Anyway, Matthew said he'd only go if Mommy drove him, so I called his bluff. And that's how Michael got to go to karate for the very first time. He slept through the entire class, waking up only to charm everyone with his big blue eyes on the way out the door.
You might also like
- 52 cm of Snow
(0.45233)
- Pandemic ER - Civic Edition
(0.436199)
- Home
(0.435965)
- London
(0.432558)
- Rachel and Andrew
(0.432044)
All