March 31, 2018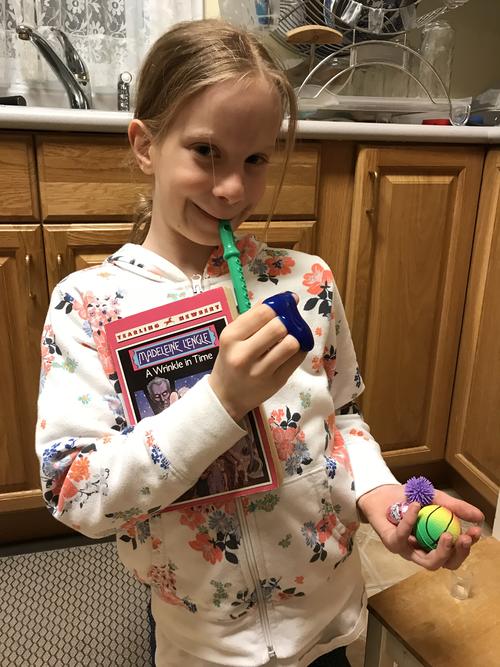 Douvris has started a book club and as soon as Elizabeth heard about it she really wanted to join in. As an enthusiastic reader myself, it's slightly bemusing that my reading aged kid is somewhat indifferent to books. I've apparently managed to keep my misgivings to myself as she describes herself as "a good reader" and "liking to read" (hooray!). In any case, the first month Elizabeth had a scheduling conflict but she was determined to go to book club for month number two.
The assigned book was A wrinkle in time. Grandma J had given it to her two Christmases ago and she had started it then but wasn't able to get into it. This time round she ploughed through it determinedly, but it was clear early on that it's still a bit beyond her English reading level, at least within the required time frame. I ended up reading about 3/4 of it out loud to her in the interests of finishing it before book club.
What did Elizabeth think of the book? "The author likes to go to church." When pressed for clarification, she explained that Madeleine d'Engle had written down many bible verses that Elizabeth knows as part of the story. Which is absolutely true! Elizabeth was not a fan of the ending. "But Meg saves Charles Wallace!" I protested. "I like to know how things end" she explained. "The book doesn't tell me what happened to Mrs Whatsit, Mrs Who and Mrs Which."
At book club they apparently had quizzes and prizes and got to wear awesome funny glasses. Book club is "amazing" and "great" and she was excited that her team won because she knew all about the book.
Next month they are doing Charlie and the Chocolate factory!
You might also like
- Grade 1 update
(0.38408)
- La lièvre et la tortue
(0.379415)
- Virtual School: Week 35
(0.379218)
- Grading for a brown belt
(0.373717)
- Calypso
(0.372567)
All