March 31, 2018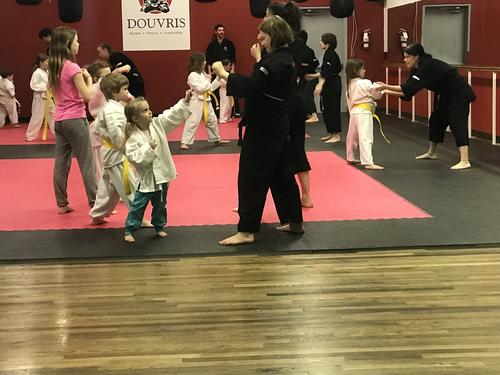 Amelia is really interested in karate and often pretends she is doing karate at home. (Along with ballet and being a tiger).
Matthew has been trying to invite a buddy for buddy day at karate for quite a number of months now, but his choices keep falling through. So he decided to ask sensei Cody if Amelia could be his buddy.
She was extremely excited right until we arrived at the dojo. And then she refused to go in, no matter how much Matthew cajoled. Michael was sleeping so I agreed to come in with her and we sat and watched for a bit while the various black belt kids tried to make friends with her. No dice, until Cody came along to save the day (Amelia is already friends with Cody you see).
Didn't take long after that before she was bear crawling with the best of them. She had a blast!
You might also like
- Pie Day
(0.346154)
- Butterflies 2015
(0.340278)
- Lac des Loups
(0.340223)
- Family Day
(0.339837)
- First stripe!
(0.339286)
All