December 20, 2017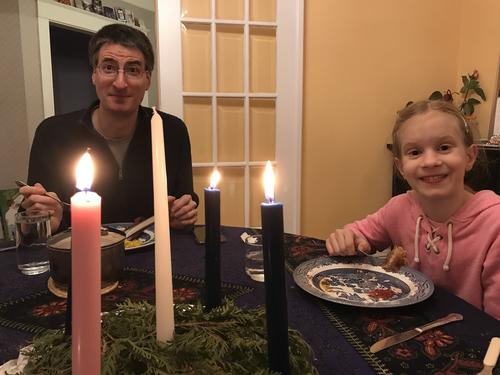 In no particular order - this year's gingerbread men from music (highly coveted; rarely eaten by the children but Daddy doesn't mind...)
We helped decorate the tree at church.
One of my favourite advent traditions is the lighting of the wreath at suppertime. While we light them we sing O Come O Come Emmanuel (adding one verse for each candle). Everyone gets a bell and when we get to the "Rejoice" part we all ring our bells wildly.
In junior church this year we did a Jesse tree during Advent. The first week we had traditional Jesse symbols to colour and cut out, and we tried to guess and/or told the stories they represented. The following week the older kids were given blank pieces of paper and told to draw stories from the Bible leading up to Jesus. Sometimes the kids are inclined to draw things that are completely unrelated (eg tanks, rocket ships etc) and so one of the leaders was about to tell off the little boy drawing the king killer when we suddenly realized he'd been paying attention the week before when I told them the story of Deborah and Jael.
You might also like
- Advent
(0.356742)
- Elizabeth's 9th birthday party
(0.347871)
- Jesse Tree
(0.34359)
- Now we are six
(0.340933)
- Gingerbread
(0.339817)
All