January 1, 2010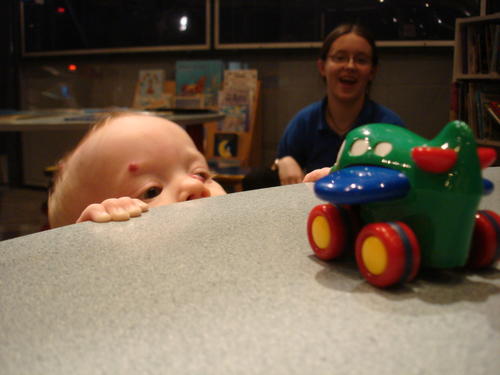 One of my New Year's resolutions this year is to visit all of the Ottawa-area museums with Elizabeth. We'll visit the obvious (Agriculture, Aviation, Civilization, Nature, Science & Tech etc) and the obscure (Governor General Foot Guards, the Cameron Highlanders of Ottawa Regimental Museum). Both Ottawa-area and museum will be defined somewhat loosely, but at the moment we're only planning to visit the one Art gallery. In addition, I think we'll give the various archive collections a miss until Elizabeth is old enough to understand the concept of an "inside voice".
Since Janice works at the Museum of Aviation and has been trying to give us our very own tour for a number of years, I decided to start there. My father dragged us to the Aviation Museum in the early 1990s and I confess that despite Janice's enthusiasm and admittedly wide knowledge of aviation history I was reluctant to go again to a boring museum for "aviation and military enthusiasts". An "aviation and military enthusiast", I am not. I was also pretty sure that Elizabeth would get bored pretty quickly. "Seen one plane, seen them all", I thought, particularly for a baby on the go who would rather explore on her own than quietly stay in Mommy's arms away from the exhibits which you aren't even allowed to touch!
Apparently I was wrong. It turns out that this Museum is pretty fantastic, especially if you are taking small children. It might be one of the top aviation museums in the world, enjoyable for aviation and military buffs alike, but the Museum of Aviation is also one of the most family-friendly places I've been to in a while. It might be one of the best kept secrets in the city.
The building is really big; it contains a whole bunch of airplanes and not just the small ones either. This has the immediate effect of spreading out the visitors and creating space for wee ones to crawl, toddle and run around in. Some museums would be stressful to visit with an active toddler sprinting around the exhibits. One blink and the child is swallowed in a sea of blinking lights and other pint-sized children. This museum isn't like that; even if your child managed to turn a corner you can always peek under the plane to keep them in sight. The atmosphere is pretty calm and quiet, even if you have a really excited baby zooming around. I presume that the sound proof room would be good for temper tantrums!
I highly recommend taking a tour - it was really, really interesting. I particularly recommend Janice of course, but I hear that all the tour guides are pretty good. I was amused by stories of the fast little rocket plane that kept blowing up during testing ... until I heard that most of the testing was done by women (being more expendable!) I don't think I'll ever think about ejection seats in the same way, not having realized that you are usually choosing spinal microfractures over death. Assuming the seat works correctly, that is. The idea of a thousand Lancaster bombers flying over Germany (dropping 22,000 pounds of bombs each) is completely staggering when you have a chance to stand underneath one of these large puppies. Oh, and I now know how to identify a pitot tube!
If you visit on weekends or holidays, there are crafts for the kids and you can sit in some of the planes (and the staff will give you a personal mini-tour). Plus, there's a pretty rocking toy room. Elizabeth would have been happy to spend the entire time there and I bet Erika would love some of the more advanced crafts too.

The museum has a small cafeteria, but we didn't check it out. I hear it's not exactly geared to celiacs though. There is a drinking fountain. There is also a cloak room for those winter jackets and boots. While the baby change table is just slightly higher than normal it's much (much!) better than the facilities at CHEO. Yes, I'm still outraged that a children's hospital is so poorly equipped for visitors under the age of two or so.
There are apparently strollers available at no extra charge (and wheelchairs too). If you go during the summer there's apparently a playground. Maybe we'll have to go back. Forget that - Elizabeth and I are definitely going back.
1
On January 6, 2010 at 00:03 am
Marie
said:
Looks like fun!
2
On January 8, 2010 at 08:23 pm
Grandpa H
said:
I'm very jealous to have missed this! Next year... :)
You might also like
- Healthy Girl
(0.46771)
- War museum
(0.465592)
- Museum of Science & Technology
(0.46367)
- H1N1 Rock Concert
(0.461345)
- Children's Museum
(0.458567)
All