March 10, 2018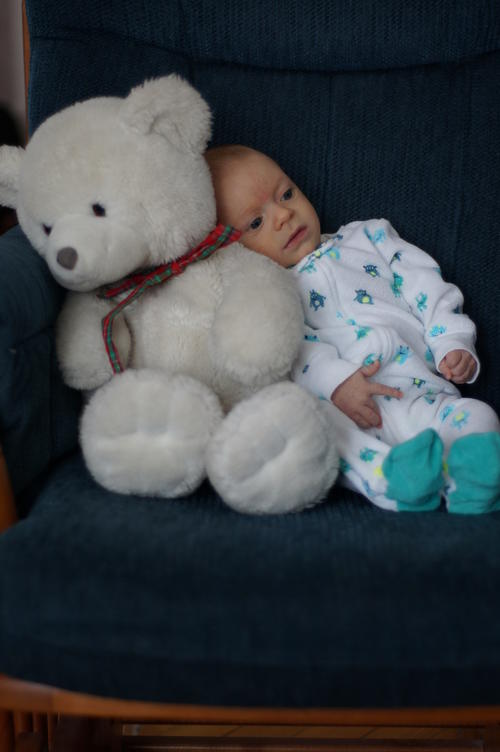 At two months Michael is an input / output machine! That is, he nurses a lot and poops a lot. In between he sleeps. Actually he's quite a good little sleeper and usually gives me several hours uninterrupted in the night. He likes to snuggle close with a heavy blanket - I worried about him getting overheated but if I just use a receiving blanket he wakes up constantly and fusses.
I rarely have to change his diaper overnight. During the day is quite another story. Elizabeth will change his diaper if he pees but she finds poop difficult to deal with.
Everyone around here has been ill and while it's hard to tell exactly, we think Michael has caught the dread plague going around here. There's definitely an increased amount of baby spit. The sharp-eyed will notice an outfit change during the bear photo shoot. That is certainly a first!
On the positive side he is no longer yellow; the breastfeeding jaundice seems to have finally more or less cleared out. His toe is much better as well, though it looks like the hair may leave a scar.
Two months is pretty smiley though, so that is pretty nice.
You might also like
- Michael at 1 month
(0.397982)
- Two weeks
(0.387597)
- The unsuspecting sleeping baby...
(0.38648)
- Four months
(0.382456)
- 2 months
(0.379141)
All