August 12, 2017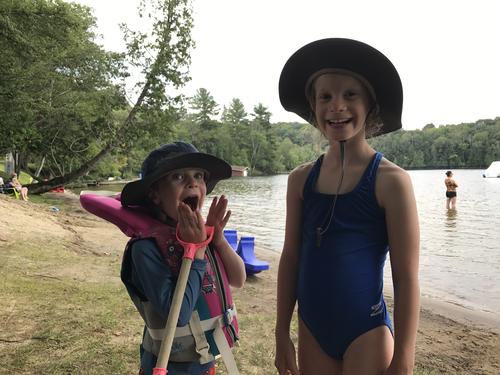 Next door to our cottage this year were two playmates for our kids. Jack was Elizabeth's age and once the lodge kids went home Elizabeth and Jack spent a great deal of time together playing and paddling around the lake.
They started to spend time just sitting on the rocks at the point on the other side of the lake and we realized that Elizabeth was a) hanging out across the lake alone with a boy (Should I be concerned? asked Brendan) and b) we had no way of telling her when it was time to come back as a mealtime approached. We had to get a passing canoe to signal them and after that we were more careful to set time expectations lol.
Jack and Olivia's mom brought face paint supplies to the cottage so the kids all got their faces done quite a few times.
It rained extremely hard for a day, washing out parts of the driveway and creating new ponds for the ducks up near the office. We didn't mind getting a chance to do some of our rainy day activities for once. One of the hens got caught in the rain but didn't seem to mind at all.
You might also like
- Great Glebe Garage Sale
(0.384181)
- Lac des Loups
(0.377358)
- Piano Recital
(0.37464)
- Solar Eclipse
(0.367296)
- Water show
(0.366942)
All