April 21, 2018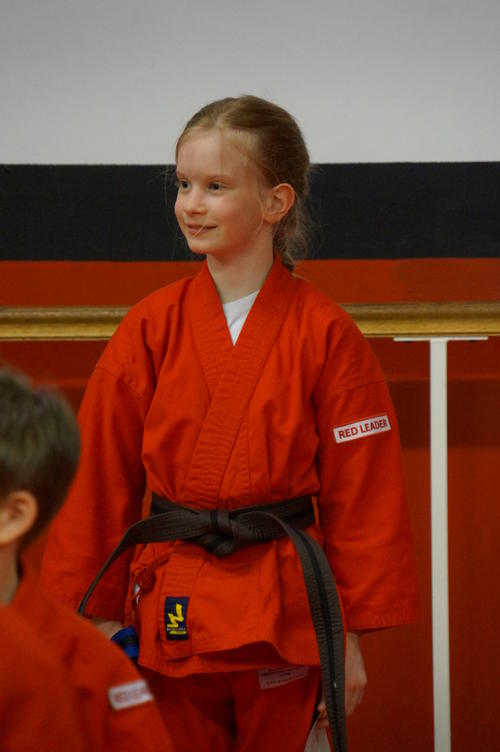 Elizabeth said goodbye to her blue belt today and is now a brown belt. Grandma J would like to remind everyone that this is as far as Mrs Pollifax got :)
Auntie Janice came to watch and was duly impressed.
I should put something profound about how proud we are of Elizabeth (true) but mostly I'm a little mystified to find myself the parent of a brown belt.
Elizabeth said that her favourite part of karate was the kicks. She said she was going to say the senseis but other people said it first so she couldn't do that. We pointed out that no one said tournament team, which she has been saying she will say is her favourite part for a couple of gradings now but then keeps chickening out. This time it was because "no one will know what that is". Kids...
She did a pretty funky kick though. I had my hands full keeping Amelia sitting and quiet(ish) so when some of the other karate moms offered to keep Michael I passed him off. I was really hoping to avoid a repeat of that time I ended up playing trains in the waiting area instead of actually watching grading.
Elizabeth was very happy to get her belt. She made cupcakes to bring to grading as part of fundraising efforts for the team (and then bought one with her own money lol, along with a chocolate milk). Matthew and Amelia bought gummy worm cupcakes. Amelia ate just the gummy worm part.
After grading we were all set to go to Tim Horton's for our traditional timbits (doubly required since Erika and Maria claimed to not know what timbits were!) when Amelia crushed her finger in the door. We probably tell our kids that doors are not toys and they are not to play with or near them twenty times a day, but that didn't prevent Amelia from standing too close and then putting her finger in the crack while it was closing. Brendan says the finger was quite flat and deformed when it came out. There was much screaming. We were able to ice it immediately and by the time I got around to taking a picture it looks bruised and a bit bigger than normal but not too bad at all. We're hoping she doesn't lose the nail. Brendan thinks he'll have nightmares but Amelia says her finger is much better now, despite demanding more ice right before bed.
You might also like
- 19 Months
(0.43321)
- River Oak
(0.431051)
- Family Day
(0.429216)
- Social Distancing: Day 20
(0.42567)
- Good Friday 2015
(0.42365)
All