April 20, 2018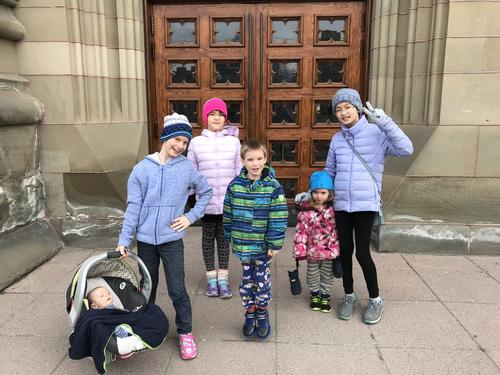 The Museum of Nature was having a special science night that sounded awesome, so when Janice couldn't drive Elizabeth to brownies we gave Elizabeth the option of what she wanted to do instead.
She nearly went to karate, because the BBM Thursday class is often pretty cool. After determining that it wasn't the last Thursday of the month (special leaders stuff) and they had done weapons stuff last Thursday, she decided that she'd go to the museum because it was something she could do with cousins.
Marit and Francesco's crew were going as well, so after doing some lichen yoga to get tattoos we joined up with them. I was very happy to have adult backup since I was slightly outnumbered...
The kids weren't quite sure what to make of the yoga (it was to teach them about survival strategies in the arctic but I'm pretty sure that was WAY over Amelia and Matthew's head at least).
Elizabeth was thrilled to find a wolverine (it's the kata she's currently learning, hence the karate pose). Maria didn't want to leave "her" bears. Elizabeth, Erika and Matthew literally climbed the walls in the caves. We played in the boat.
But the highlight was getting to dress up as a miner and have your photo taken on the green screen. The photo printed out on a super slow but pretty awesome printer. Then the kids all got an activity book and their very own amethyst to take home! Best part of a pretty fun night!
You might also like
- Strike Day
(0.397421)
- Fall summer
(0.384265)
- St Nicholas Day
(0.383295)
- Skating
(0.380298)
- Virtual School: Week 39
(0.37931)
All