May 27, 2018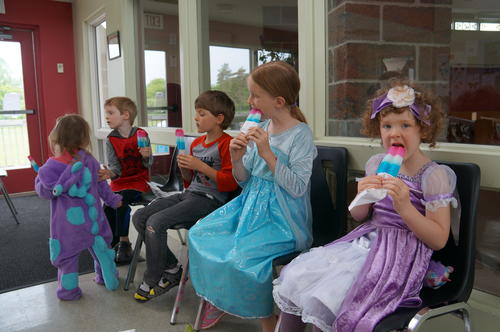 We went to Xander and Isabelle's piano recital. It was Disney themed, so the kids all were invited to dress as super heros. Elizabeth discovered her frozen dress still fit, so decided to go as Elsa. Fifteen minutes later she decided she would still wear the dress but would be some kind of made up superhero because "kids my age don't like Elsa and I don't want anyone to laugh at me". Matthew decided to be a knight and Amelia went as a dinosaur, because that's basically the only costume she's interested in.
Matthew and Amelia started out fairly engaged, but the pieces were fairly long and not terribly recognizable especially at first and they rapidly started to lose the plot. In the interests of not having to take a child out to the car (again), I sent them to play together out in the lobby by the toys. So I guess having the toys in the lobby was ok this time lol.
The recitals do make me appreciate how well run Mrs Shana and Hannah's recitals are. The theme idea for Disney was creative and I suspect fun for the students, but all of the pieces seemed just slightly too hard for the kids. One kid quite literally ended up having her big sister mash her fingers into the keyboard in an approximation of the right notes since she either seemed too stagestruck and/or disinterested in actually playing.
Some highlights: the boy who had a light saber that he thrust at the audience prior to playing something from Star Wars; the other Star Wars player who announced his piece via Darth Vader mask; the ensemble pieces that they sang and played with rhythm instruments; and obviously Xander and Isabelle's pieces :) I might be biased but I thought they did better than most of their classmates.
Afterwards there were popsicles to share, which was wonderful!
You might also like
- Virtual Piano Recital
(0.400213)
- Music and Beyond family expo
(0.397884)
- Music
(0.394112)
- Party
(0.389495)
- Halloween
(0.387884)
All