January 7, 2010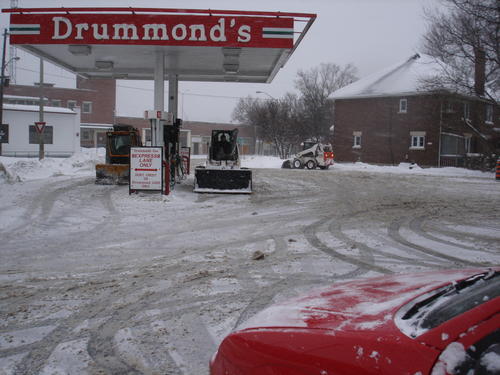 Is it only Ottawa where the sidewalk plows outnumber the cars at the filling station?
Winter may have the capital in its grip but the beauty of it makes up for a lot. At least if you don't have to go anywhere! (Pictures courtesy of Auntie Janice)
I still find winter + car seat + Elizabeth is a very challenging combination. We don't use winter clothing with the car seat because of the coat compression issue. While she is small enough to use an infant seat this is not really a problem (we can just wrap her up in many blankets), but the few times we've taken her out of the seat outside both mom and baby ended up chilly. (I unzipped my coat and put the baby inside, since she had no coat!) This would work if we had some way of getting the baby out of the car seat and into the coat without having to get outside, but Elizabeth is not very cooperative so this doesn't work at all.
1
On January 8, 2010 at 10:40 pm
Marie
said:
Can't help with the coat issue. We only get rumours of snow around here. But I'm really really glad that you know about the coat compression issue and are making others aware of it.
You might also like
- Capital of extremes
(0.353407)
- Strawberry picking
(0.350074)
- Kid Math
(0.348983)
- Cooking Class
(0.348011)
- Non-stop party!
(0.347656)
All