July 1, 2018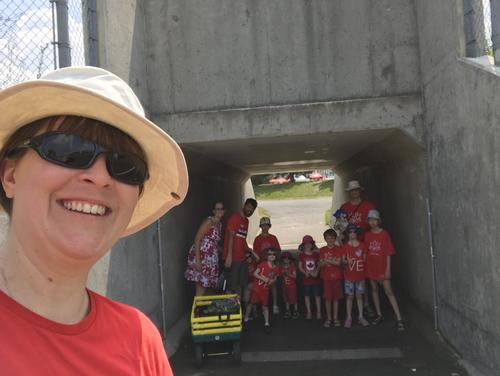 It was my birthday and we decided it would be fun to do a repeat of last year; namely go to the fair, have supper with family and see fireworks.
It was hot. The heat warning decided our morning plans - it was obviously not a good day to walk to church, sit in an unairconditioned church and walk home - Michael and probably Amelia would have overheated and going to the fair later would not have been possible. So we picked up Erika and Maria and went to Dave and Karen's church, followed by lunch at Dave and Karen's and then the fair!
It was hot. How hot? The temperature in the shade outside our garage hit 39.37C. It felt much hotter than that in the sun at the fair and it was extremely humid to boot. The official humidex was over 47C! Even holding ice packs to Michael, keeping him in the shade and dowsing him in the misters stationed throughout the fair wasn't enough to keep him from getting slightly overheated in just under an hour (our agreed time limit!).
We didn't have to wait much for any of the rides, but even so most of the kids were showing symptoms of heat exhaustion as we were leaving - especially Erika and Michael. We were super glad that our cars were only a short walk away and so thankful for working A/C!
The kids were happy to alternate play in the paddling pool and handing out in the cold basement, with a break to watch the most recent SpaceX launch. We put Amelia and Michael down at Dave and Karen's and took the others to watch the fireworks where we narrowly missed a mini riot. Apparently the youths of Barrhaven were tossing fireworks into the crowd, swarmed a policeman and ended up with arrests and pepper spray - we wondered at the police cars that suddenly showed up but didn't find out until the next day what was going on. It was so humid that all the smoke from the fireworks was trapped low to the ground so it was pretty smoky, but the actual fireworks were very pretty.
All in all a lovely day.
You might also like
- Calypso
(0.406733)
- Family Day
(0.401499)
- Party Day
(0.400411)
- Elizabeth's 9th birthday party
(0.395283)
- Adventure
(0.392925)
All