July 17, 2018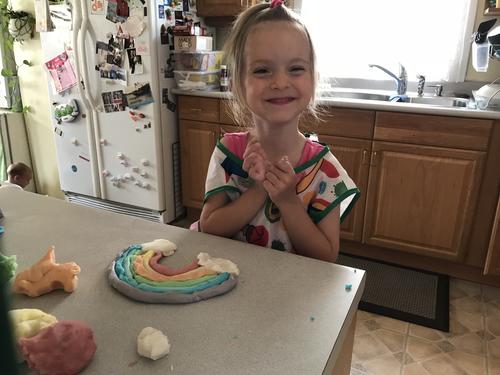 Elizabeth and Matthew are at camps this week and Amelia was moderately sad she wasn't going to camp too. Not sad enough to agree to sit on the toilet, mind you, but sad enough that when she suggested that she could do "rainbow camp" at home I kind of went with it.
It was fairly easy to plan because I mostly just asked Amelia what one does at rainbow camp and it turned out that at rainbow camp we paint, we play with rainbow playdough, we do science experiments, and we eat rainbow food (the fish carcass is rainbow trout - I only thought to take a photo after we had mostly devoured supper). Sometimes we water the garden in the sunshine, scooter up and down the street, climb on the play structure and love our baby brother. Rainbow volcanos were probably her favourite activity, even though technically they were supposed to overflow (I couldn't bring myself to make that much mess).
I stayed away from baking and the candy experiments because Amelia is supposed to be on a low sugar diet but even so we had a great deal of fun. Elizabeth and Matthew were always interested to find out what Amelia had gotten up to while they were away and insisted on doing the homemade scratch art too.
You might also like
- Cottage Days: Party time
(0.388158)
- Fancy hotel
(0.383142)
- Snow clearing
(0.381356)
- Island visit and Scavenger hunt
(0.379429)
- Virtual Piano Recital
(0.379023)
All