July 11, 2018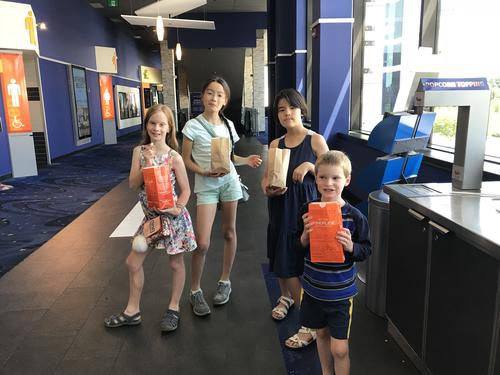 Have I mentioned the school bank yet? There's a program in Ontario whereby students are invited to sign up for an account at the Desjardins credit union. They have extra education to promote financial literacy and kids with an account can make deposits at school every two weeks. If they make a certain number through the year they get extra interest in June. Anyway, Matthew won a gift certificate to the movies from the credit union and was desperate to use it.
Incredibles 2 was the only movie that was even vaguely suitable and Elizabeth reckoned he would be okay (she'd already seen it at karate Olivia's birthday) so I agreed we could go to the movie theatre.
Grandma J agreed to play with Amelia and Daddy wrangled Michael.
We bought two large bags of popcorn and the staff obligingly gave me a couple of paper bags so I could split the popcorn into individual bags. Given that both Maria and Elizabeth had had stomach flu in the last couple of weeks I did NOT think that sharing would be wise.
The movie was very good, but Matthew did end up in my lap towards the end. I didn't find it as scary as I was expecting based on the reviews but Matthew clearly found it overly intense. At one point I wasn't sure he was going to make it through but he said he enjoyed the experience and wants to go back. His favourite part was getting to eat popcorn! We don't usually allow any food (or drink) in the basement even during movie times so this was a huge treat.
It was my first time at the Landsdowne theatre and I thought it was pretty nice.
You might also like
- Mother's day karate, spring fling and recital
(0.404837)
- Social Distancing: Day 5
(0.399579)
- Orlando
(0.396765)
- Garden
(0.395223)
- Happy Hearts for CHEO 2.0
(0.386869)
All