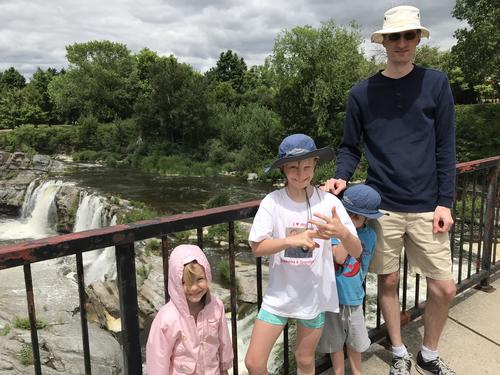 With Maria still in quarantine and the rest in need of some quiet time before Isabelle's birthday party on the weekend, our kids were indignant to think we might cancel the last day of cousin camp.
We'd originally planned to visit Mooney's bay park as Uncle Chris had a company lunch function with his family here so figured we could go with the girls and then deliver them to the lunch, but unfortunately it didn't work to connect.
Elizabeth declared we could have "cousinless camp" instead and next thing we knew we were having a picnic, flying our kites and visiting the park. Kites were fun until Elizabeth burned her fingers on one of the lines. Then she was done. She sulked pretty much until we made it to Mooney's bay, after which she forgot her wounds in the excitement.
This playstructure was the subject of much controversy here in Ottawa, as it was developed in conjunction with a TV show as a Canada 150 project. Ottawa paid $1 million dollars, and the show paid $1 million dollars and the show got to cut down a lot of mature trees on prime riverside land with no public consultation whatsoever.
It's a really nice park, even though they ran out of money and didn't implement the world's longest monkey bars or whatever it was going to be. I don't think it's two million dollar nice, and if anyone had asked me I confess I'd probably have agreed that it would have been better to put it somewhere else. But it's there now and it's super fun, if a bit crazy busy. It's become a summer camp destination so it was full of poorly supervised kids running rampant the day we went but it was big enough that we didn't mind. My only complaint was that we didn't leave enough time to properly explore all the provinces (each section of the playstructure is themed for a different province) and we never found all the treasure hunt clues hidden throughout. I guess we'll have to go back!