July 10, 2018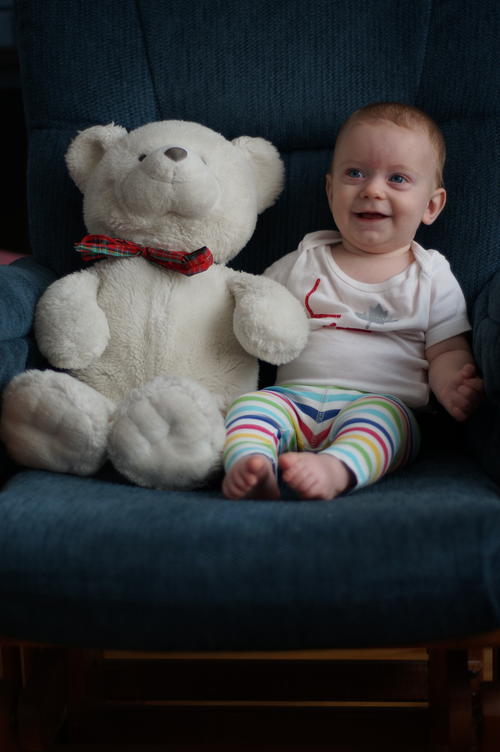 At six months, Michael weighs 6.87kg, his head measures 43cm and he is 64.6cm long. He's babbling up a storm and can communicate with a few signs (milk, diaper) and vocalizations (mmmmmmum). He thinks it's hilarious to blow raspberries. His siblings are some of his favourite people.
Michael has started taking fewer but longer naps. The other day he slept for three and a half hours in the morning! He mostly sleeps through the night too. He's much less barfy, though he does still spit up from time to time.
He's very grabby and is starting to be able to locomote towards objects of interest. He can rotate himself in a circle and has just started pushing himself backwards. He can sit up unassisted for a short time and sit propped such as in a grocery cart for quite a while. The trick with the grocery cart is not putting objects of interest too close or he ends up twisting himself around in an attempt to eat all the things. Diaper change time is an excellent time to roll over. It's definitely not safe to leave him unattended on a couch.
His favourite toy is now probably the Jolly Jumper. He's VERY enthusiastic. He also greatly enjoys the jolly jumper, Matthew's beanie boo dragon stuffies, a set of plastic keys and is still a big fan of the silicone muffin liners with feet. He also does take a soother, though he tends to gnaw on the wrong end.
He still mostly tries to nurse his solids but is making progress on learning to chew. He seems to like everything he has tried, though he makes some hilarious faces. Oranges are a particular favourite, as is watermelon and sweet potato.
A very smiley boy with an adorable giggle - his big blue eye garner much attention pretty much everywhere we go.
You might also like
- 5 months
(0.403604)
- 22 months
(0.401942)
- Nine months
(0.394269)
- 11 months
(0.394167)
- Eight Months
(0.392962)
All