August 25, 2018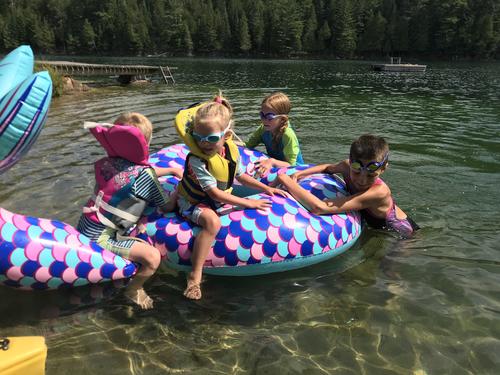 We share our driveway with wonderful neighbours, and turns out they have a wonderful cottage not too far away so we drove up to kayak and swim with their water snake and have a little bbq. I got to play a little croquet and was pleased to discover that I could hold my own against the legendary Alex!
It was a gorgeous place on a private lake (well two lakes and 300 acres or something), all built by Trevor's stepdad. The location was almost as fabulous as the company and we were very sorry to have to leave. The kids are planning to buy land adjacent so "we can be cottage neighbours as well as neighbour neighbours when we're big". Since a cottage is a lot of work to maintain, Matthew will live in a tree and Elizabeth will bring her tent. Not quite sure how this fits in with Matthew's plan to live on a boat with Auntie Joanne on the Wellesley pond but I'm sure he has time to figure out a solution.
After we drove home we headed straight for neighbor party number two of the day - Joey and Mary's Olivia turned four! Not only was their a bouncy castle but this year there was a face paint artist and balloon maker!!! Matthew at first wasn't interested in getting his face done but Elizabeth talked him into it. "Ask her to do a poisonous spider on your cheek!" she urged!
You might also like:
-
Wedding prep
-
Marathon swim
-
Grading
-
Cottage Days: Support boat
-
Clemow Flix