April 16, 2018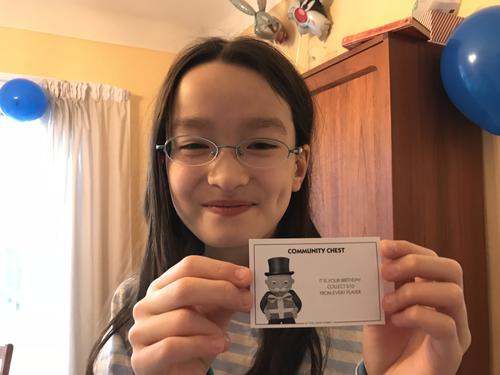 Today was actually Erika's birthday so we had chocolate muffins and chocolate croissants for breakfast with candles (as per tradition). No photos, though I did take a video. Then we continued the partying with some monopoly action.
Later that afternoon the other cousins showed up. Erika and Maria didn't seem too sure about all the new kids; I guess they were all pretty little when they left (Theo wasn't even around!). Eventually Auntie Janice took over and got them playing an indoor scavenger hunt together.
Laundry basket photos were more amusing for the adults than the kids but I'm already looking forward to retaking these when the kids are teenagers (bwhahaha).
We had lasagna, garlic bread and Caesar salad this time for supper. Isabelle helped me make the garlic bread. More chocolate cake! More candles!!!
You might also like
- Party weekend continues
(0.362637)
- Elizabeth is eight
(0.359732)
- Happy Canada Day
(0.346598)
- Uncle Dave
(0.345324)
- Mother's Day
(0.343085)
All